A Malpractice Suit Is Probably in Your Future
If you have not yet been sued for medical malpractice, the odds are that your luck will not hold out.
One in 14 doctors faces a malpractice suit every year. This results in almost every doctor having to deal with a malpractice suit, or more than one, during his or her career.[1]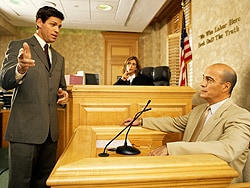 In Medscape's 2013 Malpractice Report, in which nearly 3500 physicians took part, the specialties experiencing the most lawsuits were internal medicine (15%), family medicine (13%), ob/gyn (9%), psychiatry (8%), cardiology (6%), pediatrics (5%), emergency medicine (4%), oncology (4%), anesthesiology (3%), diabetes and endocrinology (3%), general surgery (3%), and orthopedics (3%).
"Anytime there's an adverse outcome, there's a significant probability of litigation," says oncologist Richard E. Anderson, MD, CEO of The Doctors Company in Napa, California, the nation's largest physician-owned medical malpractice insurer.
"An adverse outcome is not malpractice," Anderson hastens to add. "An adverse outcome is an adverse outcome. A tiny fraction of adverse outcomes result from malpractice. But in our society, we're prepared to litigate every adverse outcome. At the end of the day, there's no way to provide ironclad protection from a malpractice suit.
As a result, more than 60% of doctors over age 55 have been sued at least once.[2] This works out to an average of 95 malpractice suits having been filed for every 100 physicians currently in practice, the American Medical Association estimates.
If and when your number comes up, what happens next? Let's take a look.
Whose Decision Is It to Settle or Fight?
If you're being sued because you made a medical error, your first instinct may be to settle rather than risk a far larger judgment in court. If you believe that you did nothing wrong, your first instinct may be to seek a jury trial to win vindication.
However, that decision may not be yours to make. The last word belongs to your malpractice insurance policy. Have you read it recently? If not, now would be a good time -- before a claim is made against you.
Does your policy contain a consent-to-settle clause? This is a clause in which, in the event of a malpractice suit, the policyholder (ie, the physician) is deemed to have consented to settle the suit without a trial. In other words, the decision on whether to settle or fight is the insurer's alone.
If you want the final say to be yours, choose a policy with a consent-to-settle clause that specifically states that the insurance company will not settle with a claimant unless you sign a consent-to-settle agreement.
However, "companies that write insurance have, over the years, become increasingly unwilling to put consent-to-settle language favorable to the doctor into their policies," cautions Joe McMenamin, JD, of McMenamin Law Offices in Richmond, Virginia.
Medscape Business of Medicine © 2013 WebMD, LLC

Cite this: Malpractice: When to Settle a Suit and When to Fight - Medscape - Sep 25, 2013.