'Doctor, You Made Me Shoot Myself'
It's distressing enough to be sued for malpractice when you've actually done something wrong or a possibly preventable medical error has occurred. At least these are lawsuits you generally can see coming.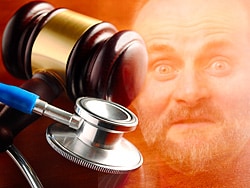 But it's particularly upsetting and stressful to be named in a lawsuit without a hint of warning, like a shot out of the blue -- so totally unexpected, so shockingly random.
The coup de grâce is when the reason for the complaint is something crazy, illogical, strange, or inexplicable, even when you try to understand the logic.
Take James R. Henry, MD, 62, who is board certified in emergency medicine but is practicing as a primary care physician in Manahawkin, New Jersey. In 2008, Henry was sued for a reason that he couldn't possibly have seen coming, the rationale for which -- to put it politely -- begs belief.
In 2006, patient Robert Buck came to see Dr. Henry, complaining of insomnia and depression. Henry prescribed the selective serotonin reuptake inhibitor sertraline for the patient's depression and zolpidem for his insomnia.
According to the complaint, a month later, Buck, after having taken zolpidem, fell asleep in a chair at home while cleaning his .38-caliber Colt revolver. He says that he then awoke in a disoriented state, heard a telephone ringing, and thought he was reaching for the receiver with his left hand. In the process, the gun in his right hand somehow ended up in his mouth, whereupon he pulled the trigger.
Buck miraculously lived. He then sued Henry for medical malpractice for prescribing the zolpidem that, he alleged, made him shoot himself in the face. It was alleged that Henry "deviated from accepted medical standards when he prescribed the sleep medication," court documents state.
It is just this sort of out-of-nowhere lawsuit that doctors especially dread. Many nerve-racking suits, like this one, are unavoidable, although sometimes justice triumphs -- or at least staggers over the finish line -- in the end.
Henry, for example, eventually won his case (on a technicality; he was never exonerated), over 5 years later. His name had been dragged through the newspapers, patients had asked him about the case, and his competence as a physician had been questioned at trial. "It's not something I will soon forget," he says.
Medscape Business of Medicine © 2013 WebMD, LLC

Cite this: Crazy, Scary Reasons Why Patients Sue - Medscape - Sep 10, 2013.