Lose Your House in a Lawsuit?
Most doctors have heard that if you put your house in your spouse's name, you're safe in case you get sued and have to pay out of your personal assets.
A persistent myth in medicine is that a physician can lose his home and life savings if a runaway jury returns a malpractice verdict in excess of his insurance coverage.
But how often does a doctor have to pay from his or her own assets? And even if it happens, is it worth the effort of moving your assets around to shield them?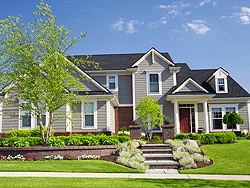 "We still see doctors putting their assets in a spouse's name, but it's really pointless," says Lee J. Johnson, Esq., Johnson & Associates, Mount Kisco, New York. "It's rare for a doctor to pay out of pocket, even when a verdict exceeds his or her coverage. Almost all cases settle without the doctor having to pay anything.
"And for the transferring of assets to your spouse to have any real value, you have to be absolutely confident of your marriage," she says. "Even then, these arrangements have to meet strict standards to pass muster. If they don't, a court will overturn them."
It's fairly uncommon for jury verdicts to exceed a doctor's coverage. Medscape's 2013 Malpractice Report found that the vast majority of lawsuits are dropped by the plaintiff, dismissed before trial for lack of merit, won by defendant doctors, or settled for an amount within the doctor's policy limits.
It's even rarer for a physician's personal assets to be on the line, regardless of the size of the jury award. Our survey showed that fewer than 2% of physicians who were sued had to pay part of the award from their own funds. Several liability insurers told us that percentage is probably even too high.
"I've never heard of a physician losing his house because of a malpractice verdict," said Armand Leone, MD, JD, a radiologist-plaintiff's attorney in Glen Rock, New Jersey, who also acts as private counsel to doctors who've been sued.
"It's an unjustified fear," he said. "Even those multimillion dollar awards that make headlines are generally settled without the doctor being exposed. No plaintiff ever gets paid a $200 million verdict. Not even the largest hospitals have that kind of insurance coverage."
Medscape Business of Medicine © 2013 WebMD, LLC

Cite this: Are Your Personal Assets at Risk if You're Sued? - Medscape - Aug 28, 2013.