The ACA and Physician Reimbursement
As the Affordable Care Act (ACA) moves toward its key implementation phase next year, this massive law is starting to affect physicians' incomes in a variety of ways.
In January 2014, the ACA will carry out the largest insurance coverage expansion since 1965 and make historic changes in the way that insurers operate. Other changes that affect physicians have already been initiated, and more will follow.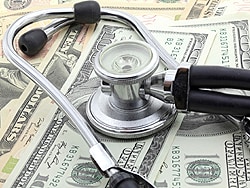 Here are 8 ways that the ACA is likely to affect your income. Is your practice ready?
More Covered Services
The new law removes some major impediments in insurance coverage for your patients and mandates some extra services that your payers may not have covered previously.[1]
"There are strong feelings for and against the ACA, but this group of provisions has broad support," said Jeffrey Cain, MD, President of the American Academy of Family Physicians (AAFP). He added that these reforms would help physicians because "patients who have insurance and access to primary care have better health outcomes."
In 2011 and 2012, the ACA required insurers to cover 63 different preventive services without requiring an out-of-pocket payment from patients.[2] The services include blood pressure and mammography screenings, a variety of immunizations, childhood behavioral and autism screenings, and -- controversially -- access to contraception. Practices can expect reimbursement for these services without needing to collect any money from patients.
Then, on January 1, 2014, individual and small group plans will have to cover specific services, called "essential health benefits," including maternity care, mental health services, medications, rehabilitation services, and chronic disease management. Again, insurers will have to pay physicians and other providers for these services.
Also, plans will be barred from discriminating against people for pre-existing conditions, and they cannot set annual or lifetime limits on coverage. These provisions will be important to your patients with chronic conditions who currently can lose coverage when they switch jobs and may have bills that exceed their insurance limits.
Medscape Business of Medicine © 2013 WebMD, LLC

Cite this: 8 Ways That the ACA Is Affecting Doctors' Incomes - Medscape - Aug 15, 2013.