For patients newly diagnosed with cancer, getting in better physical and mental shape before starting treatment can improve outcomes and reduce complications, according to a new study.
The practice of prehabilitation is common in orthopedic surgery, where patients who are set to undergo knee or hip replacement or other procedures are encouraged to get in the best shape possible beforehand, so that they will be better able to withstand the rigors of surgery and optimize postoperative recovery.
The first review of prehabilitation in cancer patients examines studies that used aerobic exercise to improve strength and stamina. The results, which appear in the August issue of American Journal of Physical Medicine & Rehabilitation, show that prehabilitation improves not just physical outcomes, but also psychologic outcomes. It also decreases hospital readmissions and reduces cancer-related healthcare costs.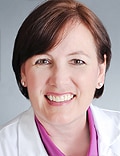 The time between a diagnosis of cancer and the beginning of therapy is an ideal teaching moment, and can be successfully used to help patients cope with their anxiety and worries about their future, coauthor Julie K. Silver, MD, from the Department of Physical Medicine and Rehabilitation at Harvard Medical School in Boston, told Medscape Medical News.
"There is a window of time when newly diagnosed patients are thinking about their upcoming treatment and want to do things to help themselves. I saw this first-hand in my cancer rehabilitation practice, and saw that patients could benefit from interventions before their treatment started," Dr. Silver explained.
She and her coauthor, Jennifer Baima, MD, also from Harvard Medical School, reviewed the literature on rehabilitation in general and as it applies to the oncology population. They found 6 articles that dealt with cancer prehabilitation and numerous others that focused on preoperative, prophylactic, perioperative, and pretreatment cancer rehabilitation.
Three of the studies involved patients with lung cancer. One study found that preoperative short-term intense physical therapy increased oxygen saturation, improved exercise capacity, and reduced hospital stays.
In another study of 22 lung cancer patients with comorbid chronic obstructive pulmonary disease, prehabilitation consisted of walking before surgery. In these patients, there was less need for tracheostomy and prolonged oxygen inhalation after surgery than there was in historic control subjects.
The third lung cancer study found that patients who attended 90-minute outpatient appointments 5 days per week for 4 weeks, during which they cycled and performed strength training, showed significant improvement in maximal aerobic capacity.
"The research doesn't really support this yet, but patients who undergo prehabilitation may be able to better adhere to their acute cancer treatment regimens," Dr. Silver said.
"For example, if a patient who is newly diagnosed with lung cancer undergoes prehabilitation, they may be able to complete their cancer treatments better because they are stronger physically and emotionally," she explained.
She added that the ideal prehabilitation regimen is multimodal.
"There is more than one assessment and/or intervention that is offered. One of the things that should be considered for every newly diagnosed cancer patient is a prehabilitation intervention designed to decrease anxiety about the upcoming treatment. This would involve helping the patient learn progressive muscle relaxation techniques or meditation," Dr. Silver said.
"You want to combine that with things that will help them physically as well. If you have a patient who is going to have a colostomy, for example, then you might want to train them preoperatively to manage that," she said.
Prehabilitation could also include things like financial counseling, which could help decrease anxiety, she noted.
The STAR Program
Prehabilitation programs are springing up in more and more hospitals, Dr. Silver said. In fact, in 2009, she cofounded the Survivorship Training and Rehabilitation (STAR) program, which can now be found in 100 hospitals in the United States.
"Clinicians should be aware of the emerging research in cancer prehabilitation and implement evidence-based care by referring their patients, if possible, to a prehabilitation program, or implement one themselves," she explained.
A Terrific Idea
R. Samuel Mayer, MD, vice chair of the Department of Physical Management and Rehabilitation at Johns Hopkins Medical Center in Baltimore, who was asked by Medscape Medical News to comment on the study, said that prehabilitation is "a terrific idea."
"This is something that has been looked at before, primarily in the orthopedic world before joint replacement. If you improve someone's physical condition before they go into surgery, the outcomes will be better," he noted. "Why not do this with cancer patients?"
Too often, patients get referred to rehabilitation after their treatment, or worse, when their disease has spread and they are severely disabled.
"The best thing is to help patients before things get that bad, and these programs are available now at more and more hospitals. Even if you just give patients an exercise program so they can get in better shape, they will feel more in control. Unfortunately, cancer patients have so many things done to them; the one thing prehab can really offer these patients is [a sense of] control," Dr. Mayer said.
Dr. Silver reports that she is cofounder of Oncology Rehab Partners, LLC, which developed the STAR program. Dr. Mayer reports no relevant financial relationships.
Am J Phys Med Rehabil. 2013;92:715-727. Abstract
Medscape Medical News © 2013 WebMD, LLC

Send comments and news tips to news@medscape.net.
Cite this: Prehabilitation Before Cancer Treatment Improves Outcomes - Medscape - Aug 01, 2013.