A rare case of emotional synesthesia following a hemorrhagic stroke originating in the thalamus has opened a fascinating window into the neural substrate of this condition.
Synesthesia is a neurologic condition in which patients experience more than 1 sense at the same time. They may "see" words as colors, hear sounds in response to smells, or feel something as a reaction to a certain sight.
The case involves a 45-year-old right-handed man with 18 years of education and a history of hypertension who experienced a small left posterolateral thalamic hemorrhage that included portions of the pulvinar, lateral posterior, posterior, and ventral posterior lateral nuclei with possible extensions into the internal capsule.
Nine months after his stroke, the patient reported intense sensory-emotional experiences. Involving both auditory and visual synesthesia, this unique case is something Tom A. Schweizer, PhD, neuroscientist and director, Neuroscience Research Program, St. Michael's Hospital, Toronto, Ontario, Canada, is unlikely to see again in his career.
The report, which is only the second documented case of synesthesia following brain injury, was published in the August issue of Neurology.
Corroborated by Imaging
High-pitched brass instruments, particularly the brass theme from James Bond movies, elicited an extracorporeal sensation and a feeling of ecstasy in the patient, who also saw light-blue flashes in his peripheral vision. As well, words written in blue typeface provoked strong feelings of disgust, with yellow words causing a milder feeling of disgust.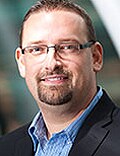 Functional MRI (fMRI) studies in this patient supported his reports of intense emotional arousal when listening to the James Bond music, said Dr. Schweizer.
"He talks of this spatial navigation, this 'riding the music' feeling, and indeed, we saw in this patient activation of the temporal cortex and hippocampus, as well as other areas."
When the patient viewed 10-second blocks of words presented in blue on a white background, there was intense activity in the left striate and extrastriate regions, suggesting increased sensory and attentional processing of emotional stimuli by those regions. Similar but less intense patterns were found when he looked at yellow lettering. Black letters did not elicit a response beyond what is normal.
Again, these findings supported what the patient had reported.
"As he describes it, blue is the most disgusting to him, and yellow is milder, and there was this graded response when we saw the fMRI," said Dr. Schweizer.
"The important thing is that the synesthesia induced by font color and text is different from the other response which was auditory. The take-home point is that it's corroborating his subjective reports of this richness of experiences."
The exact same stimuli presented to 6 age- and education-matched neurologically healthy controls produced nowhere near the same activation on fMRI, said Dr. Schweizer.
Neuroplasticity Gone Awry
This is only the second documented case of acquired synesthesia following a stroke and the only "multimodal" one that also involved an emotional component, said Dr. Schweizer. The stroke in the other case also occurred in the thalamus. That patient experienced a tingling sensation in the arm while listening to particular sounds.
Dr. Schweizer likened this new patient's synesthesia to "neuroplasticity gone awry."
The thalamus, the location of the patients' stroke, is densely packed with white matter fiber connection, "so when the brain tried to repair itself it actually started to hook wires together that normally wouldn't be in communication with one another."
The patient has continued to experience synesthesia several years after his stroke. It's not treatable and it's not likely to go away, although the patient can control it for the most part, said Dr Schweizer.
Which he doesn't always do. "He doesn't want it to go away," noted Dr. Schweizer. "He enjoys the ride he says he goes on with the flashes and extra sensation. He sees it as a gift."
The authors have disclosed no relevant financial relationships.
Neurology. 2013;81:509-510. Abstract
Medscape Medical News © 2013 WebMD, LLC

Send comments and news tips to news@medscape.net.
Cite this: Rare Case of Synesthesia After Brain Injury Reported - Medscape - Aug 01, 2013.