Patients with severe cocaine withdrawal symptoms may respond better to the addition of topiramate to cognitive-behavioral therapy (CBT) than to the addition of placebo, new research suggests.
A randomized controlled trial of 170 adults who were dependent on both cocaine and alcohol showed that those with high symptom scores who received 300 mg daily of the γ-aminobutyric acid (GABA) agonist topiramate plus CBT for 13 weeks were more likely to be abstinent from cocaine during the final 3 weeks of the study than the participants who received placebo plus CBT.
However, there were no significant between-group differences in overall reductions in cocaine or alcohol use or in cocaine cravings.
Lead investigator Kyle M. Kampman, MD, professor of psychiatry at the Perelman School of Medicine at the University of Pennsylvania in Philadelphia, admitted to Medscape Medical News that he was somewhat surprised by the mixed results.
"We were hoping for a more robust response from topiramate, and I'm not really sure why we didn't get it. But we were just glad to see that topiramate did promote abstinence at the end of the trial in a significant number of folks," said Dr. Kampman.
"This is a hard group to treat. Although we know that there are some good psychosocial treatments for cocaine dependence, a lot of patients just don't benefit completely. So a medication that could help is certainly welcomed."
He added that the take-away message for clinicians is that topiramate may be more effective in patients with more severe cocaine withdrawal symptoms — and that the investigative team is "cautiously optimistic."
The study was published online in Drug and Alcohol Dependence.
Dependence on Multiple Substances Common
Topiramate is an anticonvulsant that increases GABAergic activity while also inhibiting glutamate neurotransmission by blocking α-amino-3-hydroxy-5-methyl-4-isoxazolepropionic acid (AMPA)/kainate receptors. "By increasing GABAergic activity in the nucleus accumbens, topiramate may reduce the dopamine release associated with cocaine or alcohol use and reduce the reinforcing effects," explain the researchers.
"In animal models of cocaine relapse, topiramate's blockade of AMPA receptors in the nucleus accumbens prevented reinstatement of cocaine self-administration," they add.

A pilot study published by Dr. Kampman and colleagues in 2004 showed that of 40 patients with cocaine dependence, those who received topiramate for 13 weeks had a reduction in cocaine use compared with those who received placebo.
"Because topiramate has also shown some activity for the treatment of alcohol dependence, we thought it would be a natural for the treatment of combined cocaine and alcohol dependence," he said.
He added that approximately two thirds of the patients with cocaine dependence who come into his center for treatment are also addicted to alcohol.
For the current study, 170 adults between the ages of 18 and 70 years who were clinically dependent on alcohol and cocaine were enrolled.
After achieving abstinence from both substances, which was defined as 3 consecutive days without use, they were randomly assigned to receive either 300 mg daily doses of topiramate (n = 83; 78% men; 86% black and 14% white; mean age, 45 years) or matching placebo capsules (n = 87; 80% men; 80% black and 20% white; mean age, 43 years).
In addition, all participants underwent once-a-week sessions of individual CBT, which was focused on relapse prevention.
Mixed Results
The primary outcome measures were cocaine and alcohol use, which were assessed on the basis of combined results from the self-reported Timeline Followback and thrice-weekly urine drug screens.
Secondary measures included addiction-related problems, as measured on the Addiction Severity Index (ASI); nurse-rated improvements on the Clinical Global Impression (CGI) scale; craving intensity, frequency, and duration, as measured on the Minnesota Cocaine Craving Scale (MCCS); improvements in scores on the Penn Alcohol Craving Scale (PACS); and cocaine withdrawal symptoms, as measured with the Cocaine Selective Severity Assessment (CSSA).
Results showed that the topiramate group was not significantly superior to the placebo group on the primary outcome measures or in reducing cocaine craving or scores on the ASI or CGI.
Although the adjusted odds ratio (OR) for abstinence was 1.53 for topiramate over placebo (95% confidence interval [CI], 0.94 - 2.48), this was not deemed statistically significant (P = .08).
However, patients receiving topiramate "were more likely to be retained in treatment and more likely to be abstinent from cocaine during the last three weeks of the trial" (20% vs 7%; P = .01), report the investigators.
In addition, "subjects who entered treatment with more severe cocaine withdrawal symptoms responded better to topiramate," they add.
This means that among patients who had CSSA scores higher than 18 on the day of randomization (n = 59), those treated with topiramate had significantly more negative urine drug screens for cocaine than did the participants treated with placebo (P = .01).
"It is possible that topiramate supported cocaine abstinence due to its anxiolytic properties. It is also possible that topiramate promoted [this abstinence] by reducing the euphoric effects of cocaine," write the researchers.
The CSSA composite scores, however, showed no significant between-group differences.
Possibly Beneficial?
Although PACS scores showed that alcohol craving decreased over time for both groups, they were significantly lower in the topiramate group compared with the placebo group (P < .05). But the amount of drinking did not differ.
"The fact that topiramate did not reduce alcohol use better than placebo in this trial is puzzling," write the investigators. They note that this could be because overall alcohol use in this patient population was not as severe as is often found in trials of patients with alcohol dependence only. In this study, the participants only had 12% heavy drinking days vs 30% and 48% in recent trials.
"It is possible that a floor effect on heavy drinking days made it impossible to detect an effect."
When assessing treatment-related adverse events, sedation was reported by 20% of the topiramate group and 17% of the placebo group. Headache (7% vs 3%, respectively) and dry mouth (also 7% vs 3%, respectively) were also fairly evenly split between the groups.
Paresthesias, however, occurred significantly more often in the topiramate group than in the placebo group (20% vs 3%, P < .05).
"Despite its weaknesses, the results of this trial suggest that topiramate may be beneficial for the treatment of comorbid cocaine and alcohol dependence," write the investigators.
"The treatment of cocaine dependence is difficult, so any positive results that we can find are exciting. And to me, it's especially exciting because we at least partially replicated our pilot findings," said Dr. Kampman.
He noted that a study published last year by John Mariani, MD, and colleagues from Columbia University in New York City showed that combining topiramate with mixed amphetamine salts plus CBT led to more cocaine abstinence than placebo plus CBT.
"So in cooperation with them, we have started a new trial trying to replicate their findings," he reported.
"Not Ready for Prime Time"
"I don't think this treatment is quite ready for prime time," Stuart Gitlow, MD, MPH, associate clinical professor of psychiatry at Mount Sinai School of Medicine in New York City, told Medscape Medical News.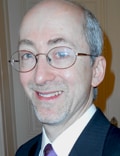 "I don't believe that it demonstrates a value, although it suggests that there might be a value. A long-term study over a reasonable period of time and against a gold-standard treatment protocol would potentially demonstrate whether this is or is not useful," he added.
Dr. Gitlow, who is also the current president of the American Society of Addiction Medicine, was not part of this research. He noted that the main focus of the study appeared to be the efficacy of topiramate as a relapse prevention medication.
"But with that, you want to look at a long period of time. It's very hard to look at relapse over a short period and try to compare one drug to placebo or to another drug, especially in a disease that's present over a lifetime," he said.
In addition, Dr. Gitlow said that he would have preferred seeing different outcome measures.
"What we look for clinically is whether or not an individual improves from a functional standpoint. Craving or quantity or frequency of use is not quite as important," he said.
"What's important is this: are they getting better? Is their addictive disease improving? Because anything else is just a metric that isn't necessarily predictive of a true decline in morbidity and mortality, which is the overall goal of treatment."
He also added that he does not agree that this group of patients is necessarily hard to treat. "Generally speaking, we get 70% to 80% treatment efficacy if patients get appropriate care. But that means care delivered by an addiction specialist physician, concurrent attendance at 12-step meetings, and concurrent random drug screens."
Dr. Gitlow said that he would like to see a study compare one of the psychotherapy treatments that has shown such high efficacy rates with and without concurrent medication.
"But for now, I don't think this medication is something that clinicians should base their treatment decisions upon."
The study was funded by grants from the National Institute on Drug Abuse. The study authors and Dr. Gitlow have disclosed no relevant financial relationships.
Drug Alcohol Depend. Published online June 27, 2013. Abstract
Medscape Medical News © 2013 WebMD, LLC

Send comments and news tips to news@medscape.net.
Cite this: Seizure Drug May Be Useful in Cocaine Addiction - Medscape - Jul 24, 2013.