Presentation, Examination, and Evaluation
Case Presentation
A 42-year-old white woman presents with multiple lesions on the face and scalp. They began to appear in her 20s and have been increasing in number. The scalp lesions are painful at times, and she is distressed with the uneven texture of her cheeks and forehead.
Her medical history is significant for chronic pain. The review of systems is negative. Her family history is significant for a brother with similar lesions.
Physical Examination
The physical exam reveals multiple pink- to skin-colored papules scattered over the forehead (Figure 1), cheeks, and mid-face. Larger skin-colored to reddish nodules are scattered throughout the scalp (Figure 2). There are subtle scars apparent from prior excisions.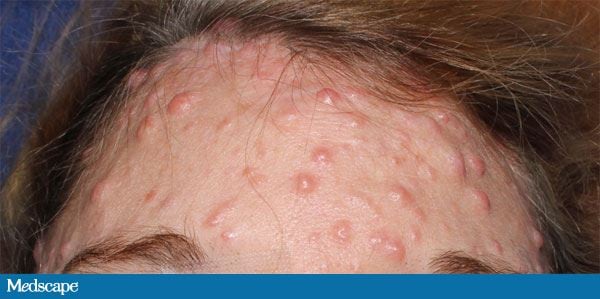 Figure 1. Numerous pink papules are evident on the patient's forehead.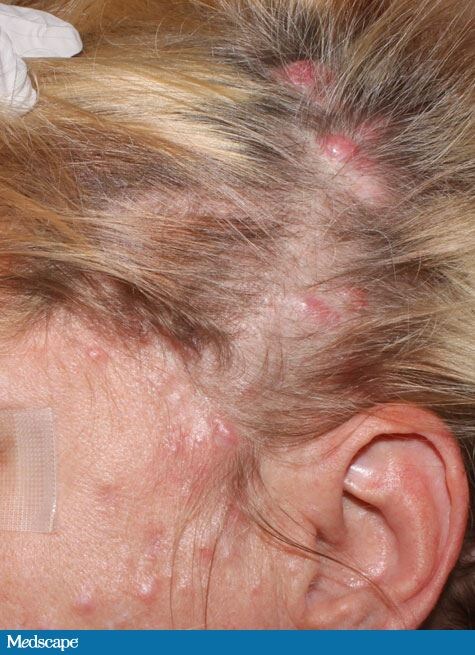 Figure 2. Multiple pink nodules scattered throughout the preauricular area.
Diagnostic Evaluation
Histologic examination of a representative scalp lesion reveals islands of basaloid cells surrounded by hyalinized material. These islands are arranged like a jigsaw puzzle and consist of 2 cell populations: small, dark cells and larger, paler cells (Figures 3, 4).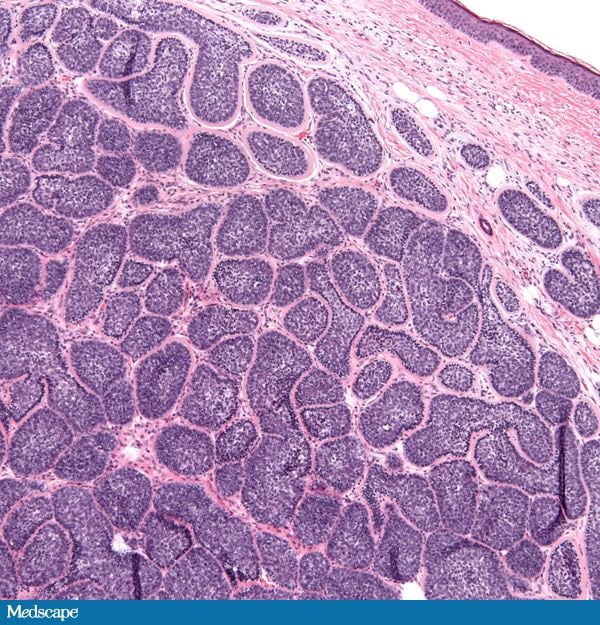 Figure 3. Histopathology of representative scalp lesion. Clusters of basaloid cells are surrounded by hyalinized material and arranged in a jigsaw puzzle pattern. Original magnification: 100x.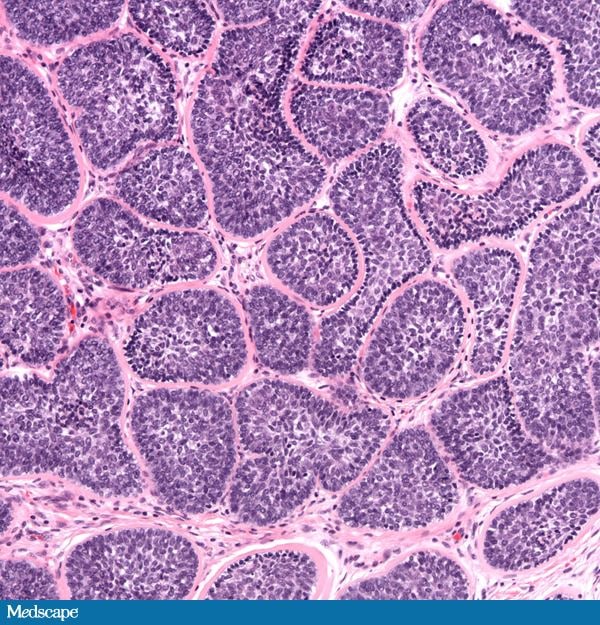 Figure 4. Higher magnification of basaloid islands reveals 2 population cells: small, dark cells and larger, paler cells. The cells are uniform and bland; no mitotics are present. The surrounding hyalinized material is also apparent. Original magnification: 400x.
Medscape Dermatology © 2013  WebMD, LLC

Cite this: Heidi M. Hermes, Nazanin Saedi, Jeffrey S. Dover. Facial Papules and Nodules in a Woman: What's Your Diagnosis? - Medscape - Jul 23, 2013.