Are Lung Cancer Patients to Blame for Their Disease?
Editor's Note: Because many people perceive lung cancer as self-induced -- the result of cigarette smoking -- there is a stigma associated with lung cancer that does not afflict patients with other cancers. At the 2013 Annual Meeting of the American Society of Clinical Oncology (ASCO®), Medscape spoke with lung cancer expert Joan H. Schiller, MD, University of Texas Southwestern Medical Center in Dallas, Texas, about her poster presentation[1] on attitudes toward lung cancer vs breast cancer and the stigma associated with a lung cancer diagnosis.
Medscape: What led you to conduct this study?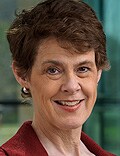 Dr. Schiller: Those of us who treat patients with lung cancer have observed that our patients suffer from guilt and stigma associated with their disease. Many people believe that -- unlike most other cancers -- lung cancer is self-induced. However, they do not take into account that most people started to smoke before they knew better. Most of the cancers associated with cigarette smoking occur in patients who started in the 1960s, before the research was done about the connection between cigarette smoking and lung cancer. The stigma associated with lung cancer is a real problem that is not associated with self-induced diseases, such as heart disease or diabetes.
Medscape: Because 90% of lung cancers are associated with smoking, I assume that is why people believe the cancer is self-induced.
Dr. Schiller: Quitting smoking is very difficult. Smoking cigarettes is as strong an addiction as heroin, and once you start, it is very difficult to stop. In fact, 75% of all smokers have tried to quit but have been unsuccessful. However, lung cancer can occur in people who have managed to quit as well. In fact, it is estimated that about one half of all lung cancers occur in former smokers.
Researchers have identified some genes that lead to nicotine addiction. People with these genes who start to smoke cigarettes become more addicted than those who lack those genes.
In thinking about how to combat the stigma associated with lung cancer, which we believe is unfair, my coauthors and I decided the first step was to quantify attitudes.
Medscape Oncology © 2013  WebMD, LLC

Cite this: The Stigma of Lung Cancer - Medscape - Jul 18, 2013.