Is a Concierge Practice in Your Future?
As frustration and anger with healthcare intensify among physicians, more and more doctors believe that they are ready to quit the system and start practicing off the grid: They are considering a switch to a cash-only or concierge practice.
These doctors are receiving plenty of positive reinforcement. Most recently, a survey of 14,000 physicians found that 1 in 10 practice owners are planning to transition from traditional to concierge practices in the next 1-3 years.[1]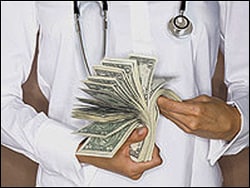 Today, "concierge medicine" is a rubric for a wide range of practice models that for the most part (but not entirely) shun Medicare and commercial insurance. Instead, patients either pay in cash for each service rendered or prepay a monthly or annual subscription fee that includes various levels of service.
Concierge medicine was initially marketed to affluent patients, who paid $10,000-$20,000 a year to have a personal physician on call 24/7. Cash-only practices emerged at around the same time -- the late 1990s -- as an affordable alternative for middle- and lower-income patients, generally with high-deductible or no insurance. What they received were basic primary care services at rates that most physicians would consider eminently fair. And they got instant access.
But these 2 broad, previously distinct patient panels are now routinely merged into a single practice model. Whether it's called "concierge," "boutique," "retainer," "retail," "cash-only," "direct-pay," or "direct primary care medicine," different levels of service at different rates are commonly offered to appeal to a variety of patients, who may now range from modest income to upper crust within the same concierge practice.
If you're caught up in the excitement of potentially moving to a direct-pay model of care, that's understandable. But do your due diligence before you decide. When doctors who are initially interested in concierge medicine take a closer look, they often have second thoughts. Consider these challenges:
Patient Recruitment Isn't Easy
A move to concierge medicine presents 2 immediate challenges. One is holding onto as many patients as possible among those you already have as you switch to a direct-pay model of care; the other is attracting and keeping new patients.
"It's common for doctors, particularly those with long-standing patients, to significantly underestimate 'ramp-up time' -- how long it takes to get new people signed up," says Helen Hadley, Founder and CEO of VantagePoint Healthcare Advisors in Hamden, Connecticut, which has concierge physicians as clients.
Many doctors think, "My patients have been coming to me for years. They'll keep on coming." When you no longer take insurance, however, that probably won't be true. Holding on to even one half of your current patients "would be wonderful," Hadley says -- but probably not realistic. Converting even 10% of a 3000-patient panel is doing pretty well. "We like to set our doctors up to make $300,000 a year," Hadley says, "but it doesn't happen right away."
Even when the number of patients you initially attract is promising, growth can be elusive. In 2002, David L. Albenberg, MD, left a traditional 3-doctor family medicine group to open a solo concierge practice: Access Healthcare in Charleston, South Carolina. "Be good at what you do, build it, and they will come" was his mantra starting out. He's tried every marketing trick in the book, but after a decade, he still is well short of his ideal panel size.
"Even though seeing patients outside of insurance is easier to talk about today than it was 10 years ago, it is still something that in our minds is simple, yet consumers find it very difficult to understand," Albenberg says.
"Think of your Medicare patients," Hadley suggests to doctors with overinflated expectations. "Think of your aunt or grandmother. They don't understand what concierge medicine is, and when they do, they don't have a mind to do it."
Access Healthcare, which now has 2 sites (the other is an urgent care center staffed by another physician), is stalled at about 300 patients per site. Albenberg, who still makes a good living, would like to have 800 patients overall. "That's my main frustration with concierge practice," he says, "stagnation in the market."
Medscape Business of Medicine © 2013 WebMD, LLC

Cite this: Cash-Only Practice: What You Need to Do to Succeed - Medscape - Jul 24, 2013.