Eight-Month Erection Spurs Malpractice Suit
By now, the words have become a permanent part of the national lexicon: "For erections lasting longer than 4 hours, seek immediate medical assistance," warn ads for various erectile dysfunction (ED) drugs.
But what of the patient whose ED treatment consists not of a drug but a penile implant -- someone whose erection lasts not 4 hours but 8 months? What does this patient do? Well, if he's 44-year-old Daniel Metzgar, of Newark, Delaware, he sues his doctor for medical malpractice.[1]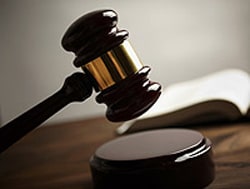 In 2009, Metzgar had the 3-piece inflatable implant surgically inserted by Wilmington, Delaware, urologist Thomas J. Desperito. Following the procedure, Metzgar's scrotum swelled abnormally. But, believing the condition to be temporary and a routine part of the expected postsurgical recovery, he didn't report it. Four months after the surgery, though, he entered the hospital, complaining of an infection and an erection that wouldn't go down. Hospital personnel performed tests that confirmed the scrotal swelling was leading to the protracted erection.
In 2010, after tubing punctured his scrotum, Metzgar had the initial device removed and a replacement device implanted by another surgeon.
In his suit against Dr. Desperito for improperly implanting the device, Metzgar claimed he was frequently in pain and regularly embarrassed following his surgery. Because of his erection, he told jurors, he had difficulty riding his motorcycle, wearing normal clothes, and participating in family social events. "I could hardly dance, with an erection poking my partner," Metzgar testified at the start of the trial. "It's not something you want to bring out at parties and show to friends."
But in a verdict that stunned Metzgar and his attorney, the jury cleared Desperito of any medical negligence, evidently heeding defense arguments that sometimes bad outcomes occur even when no one is at fault.
Medscape Business of Medicine © 2013 WebMD, LLC

Cite this: Eight-Month Erection Gives Rise to Malpractice Suit; and More - Medscape - Jul 17, 2013.