Introduction
Doctors work hard to provide the best clinical care, but if your office is rife with gossip and bad front office behavior, the environment can undermine your efforts to build a successful practice.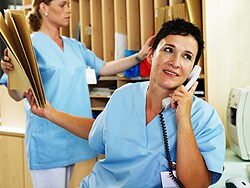 Even if the majority of your staff are polite, considerate, and effective, one problematic staff member can change the tone of the practice experience for patients.
As in any workplace, a variety of toxic verbiage can develop in doctors' offices: bullying, hurtful gossip, deliberate or unintended breaches of privacy. But consequences in healthcare can be much more severe.
Consider these examples:
• "In one physician's office, the front office staff was a revolving door. Lab people, receptions, billing people...the practice couldn't retain its staffers," says Kristin Baird, RN, president of The Baird Group, a consulting group focusing on the patient experience, in Fort Atkinson, Wisconsin. She discovered that the partners knew the cause of the problem: an office manager who reigned through verbal abuse. "The staffers had reported their issues," Baird says, "and the doctors' response was, 'We know, but she's a rock.'"
• As an extremely demanding patient is finally walking out the door, the NP says to the receptionist, "Boy, I'm glad to see that pain-in-the-neck go." Unfortunately, she says it loudly enough that the patient overhears it.
• A doctor looking over paperwork at the front desk exclaims, "Oh, I see Jon Smith has another positive STD test."
• A long-time receptionist regularly offers tidbits on coworkers, such as, "Have you heard that Susie and her husband have started marriage counseling?"
The Impact on Patient Relations
"When patients observe staff fighting, it diminishes their trust in the organization," says Baird.
As do unthinking remarks, like the NP maligning the exiting patient. Such interchanges can lead patients to wonder what the staff is saying about them; it's not a positive feeling for an office to convey.
"Staff rudeness does matter," says Jeff Brunken, president of Salt Lake City-based MGIS Companies, which provides malpractice insurance. "We have data showing that it can make patients more prone to sue, even when they like their physician. If we hear of a practice that is consistently noted for rude staff, it could impact premiums."
Medscape Business of Medicine © 2013 WebMD, LLC

Cite this: Office Gossip, Bad Behavior: How It Sabotages Your Practice - Medscape - Jul 10, 2013.