Introduction
Doctors are caught in the middle. They want to improve care, reduce wasteful spending, and avoid unnecessary tests and procedures. At the same time, they face patients who are often convinced they know what they need.
Patients spend a lot of time diagnosing their ills. Doctor Google is omnipresent. Television, radio, and magazine advertisements implore patients to ask their doctor or pharmacist if the treatment of the moment is right for them. The message is clear: Medical science has a cure for what ails you; you just have to ask for it.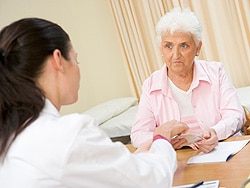 But all that asking may be contributing to an unnerving trend. As much as 30% of care delivered in the United States is duplicative or unnecessary, according to the American Board of Internal Medicine (ABIM) Foundation,[1] whose Choosing Wisely® campaign aims to help physicians work with their patients to select evidence-based treatments and reduce the number of unnecessary tests performed.
Since April 2012, the coalition of 25 medical specialty societies has identified more than 130 tests and procedures they say are commonly ordered, but often unnecessary; these include routine annual Pap tests in women aged 30-65 years with average risk and routine use of CT to evaluate minor head injuries in children.
Patients Pressure Doctors to Say "Yes"
Although doctors may have compelling medical reasons not to order certain tests or procedures, a host of competing pressures may push them to do so.
For example, doctors seeking to avoid an uncomfortable encounter or potentially damaging the physician/patient relationship may order a test just to satisfy the patient. Likewise, they may comply with a request out of fear that a disgruntled patient will be more likely to file a lawsuit against them or give them negative satisfaction ratings, which can affect compensation.
Three out of every 4 healthcare organizations with employed physicians tie physician pay to patient satisfaction, according to a survey of 424 healthcare organizations released early last year by SullivanCotter,[2] a compensation and human resource management consulting firm.
Patients vividly remember the days of HMOs, says Dr. Howard Brody, director of the Institute for Medical Humanities at the University of Texas Medical Branch in Galveston, and bristle at the idea that cost might factor into their physician's thought process. Doctors share a nearly identical fear. "They are concerned that they'll be perceived as the gatekeeper."
Given those fears and forces, it's not surprising that physicians -- even as they express concern about squandering limited healthcare resources -- sometimes order unnecessary tests to appease their patients. In a 2007 survey sponsored by the Institute on Medicine as a Profession,[3] 36% of the 1600 physicians who responded said they'd order an unnecessary MRI for lower back pain if the patient requested it.
Medscape Business of Medicine © 2013 WebMD, LLC

Cite this: 'I Can't Give You That Test': How to Tell Patients - Medscape - Jun 26, 2013.