When Errors Creep Into Your EHR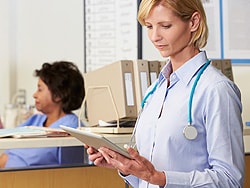 One of the virtues of electronic health records (EHRs) is that errors in clinical data entry for a given patient are reduced or eliminated, by automating the task and insisting that all fields in a given screen be properly filled in.
But nothing is perfect. Despite all the benefits that EHRs offer, there remain opportunities for incorrect data entry owing to problems with system design and or user error.
System problems, such as a confusing screen design, can cause errors. However, many of these errors can be prevented by working with your vendor to reset user preferences as needed. To preserve data quality and protect patient safety, it's essential for you to set an office policy to funnel all errors to the appropriate staffers and physicians in a timely manner.
A Case Study in What Can Go Wrong
Say a physician orders a pregnancy test on a patient before administering a variety of drugs known to cause birth defects in the fetus. The test is negative and is entered into the EHR as such, but the patient is indeed pregnant. Although the error is subsequently discovered, the pregnant patient might well have begun treatment with drugs risky to the fetus before the correction of the laboratory report.
In such a situation, it would be important for the physician to be able to prove that the initial (incorrect) report on which he relied in fact existed. It is also important that a corrected report be brought to the immediate attention of the physician.
In the case of EHRs, the problem is that correction of the laboratory report may potentially eliminate information that the physician relied on for some period. Also, the correction might be made without the physician ever being aware that a reporting error was made.
Medscape Business of Medicine © 2013 WebMD, LLC

Cite this: Correcting EHR Errors Without Getting Into Trouble - Medscape - May 29, 2013.