Introduction
Compensation-wise, 2012 wasn't a good year for oncologists. Of the 25 physician specialty groups included in Medscape's 2013 Physician Compensation Report, 23% reported compensation gains compared with a year ago; oncologists reported a 4% drop.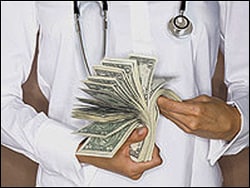 But here's the rub: Despite the pay cut, overall satisfaction among oncologists soared. In fact, of all the specialty groups surveyed, oncologists reported the second-highest level of satisfaction.
For Oncologists, 2012 Was Not a Great Year
On the whole, oncologists are well compensated, according to the Medscape survey report, conducted in February 2013. The survey of nearly 22,000 physicians found that oncologists earned a mean income of $278,000, making them the 10th highest-paid group among the 25 specialties represented.
While most oncologists reported steady or increased earnings last year (46% and 25%, respectively), more than a quarter (28%) said that their compensation fell last year, resulting in a 4% decline for the group as a whole. At the same time, many other specialists experienced a significant bump in pay last year -- orthopedists reported a 27% increase, for example, and nephrologists logged a 20% bounce -- causing oncologists to fall 3 rungs after being the 7th highest-paid specialty.
Within the specialty, pay varies widely. About 11% of full-time oncologists earn north of $500,000, while slightly more (14%) earn $100,000 or less. Most (51%) are seated comfortably in the middle, earning $200,000-$399,999.
Compensation for employed physicians was defined as salary, bonus, and profit-sharing contributions. For partners, it included earnings after tax-deductible business expenses but before income tax. Compensation excluded non-patient-related activities, such as speaking engagements.
Numerous factors contribute to the variation in compensation, including geography, gender, and practice setting.
Full-time male oncologists earned an average of 22% more than their female counterparts.
Oncologists in the Southwest earned the most last year, reporting a mean compensation of $347,000, followed closely by those in the South Central region, who reported mean earnings of $344,000. Oncologists in the Northeast earned the least, with a mean income of $230,000.
In regard to practice setting, oncologists in multispecialty group practices were the top earners, with a mean income of $356,000, an increase of $9000 over 2011, when they likewise held the top spot. Those in healthcare organizations placed a close second, with earnings of $353,000. Although oncologists working for hospitals and academic institutions both reported significant earnings increases relative to 2011, their mean earnings of $227,000 and $196,000, respectively, were far below that of their peers.
Medscape Business of Medicine © 2013 WebMD, LLC

Cite this: Earnings Are Down but Oncologists Still Do Well - Medscape - May 17, 2013.