Superstar Angelina Jolie's headline revelation this week about her positive genetic test for the BRCA1 mutation and subsequent double prophylactic mastectomy has stunned the world and put the entire field of breast cancer medicine on high alert.
Her story is "the epitome" of individualized medicine, said Eric Topol, MD, editor-in-chief of Medscape.
"She took charge by getting the test done, getting the critical information about whether she would be at risk for breast cancer and how high that risk would be, and then making a key decision of preventive surgery," said Dr. Topol, who is director, Scripps Translational Science Institute Chief Academic Officer, Scripps Health Professor of Genomics, the Scripps Research Institute.
With more than 1600 comments registered for Jolie's New York Times op-ed piece, there is little doubt about the intense public interest, which is already having a ripple effect in cancer clinics across the United States.
"With this publicity and her speaking out, I have a feeling there will be increased requests [for BRCA testing]," Sandra M. Swain, MD, president of the American Society of Clinical Oncology, told Medscape Medical News.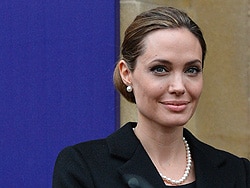 "We already know from studies that women think they are at a higher risk of breast cancer than they actually are," said Dr. Swain, a breast cancer specialist and medical director of the Washington Cancer Institute at MedStar Washington Hospital Center.
"Hearing this, people may think, 'Oh, she's 37, maybe I also have that risk.' "
Indeed, there has already been an uptick in patient calls and emails at Moores Cancer Center at the University of California, San Diego. "People are just wondering about how to go about getting the test or more information," said Lisa Madlensky, PhD, CGC, a cancer geneticist and director of the center's Family Cancer Genetics Program, in an interview.
"I expect a lot of women are asking themselves if they should get tested or not because of a family history," said Jennifer Litton, MD, from the Department of Breast Medical Oncology, Division of Cancer Medicine, the University of Texas MD Anderson Cancer Center, in Houston.
"Overall, I think healthcare providers may expect increased questions about this testing," she told Medscape Medical News.
Medscape Medical News © 2013  WebMD, LLC

Send comments and news tips to news@medscape.net.
Cite this: Angelina Jolie's Mastectomy: BRCA Testing in the Spotlight - Medscape - May 16, 2013.