ORLANDO, Florida — Hospitalization for infection during childhood is associated with an increased risk of developing schizophrenia in adolescence and young adulthood, new research shows.
The study also found an increased risk for schizophrenia if the child's father had been hospitalized for infection, lead investigator Philip R. Nielsen, a PhD candidate at the National Centre for Register-based Research, Aarhus University, Denmark, told Medscape Medical News.
"These are serious infections requiring hospitalization, so it is only the more severe cases of infections that are implicated here, and the fact that we found raised risk if the father had a history of being hospitalized for infection indicates that there may be some familial susceptibility to infection and subsequent schizophrenia risk," Nielsen said.
The findings were presented here at the 14th International Congress on Schizophrenia Research (ICOSR).
Several studies have reported links between maternal infections during pregnancy and the child's risk for schizophrenia. However, few studies have looked at infections in children, and their results have been inconclusive, Nielsen said.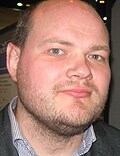 In the current study, the researchers used data from 2 population-based registers, the Danish Psychiatric Central Register and the Danish National Hospital Register, and selected all individuals born in Denmark between 1981 and 2000, which totalled 843,390 individuals.
They then identified 3409 individuals who had a first hospital contact with schizophrenia from 1991 through 2010. Of these, 1549 were exposed to an infection during their childhood that required hospitalization.
The study showed that individuals who were hospitalized for infection during childhood were almost 50% more likely to develop schizophrenia than individuals who were not, with a relative risk (RR) of 1.45 (95% confidence interval [CI], 1.35 - 1.55).
"This higher risk held if they were hospitalized for an infection at any given age before the onset of schizophrenia," Nielsen said.
Bacterial infection was associated with the highest risk (RR, 1.73; 95% CI, 1.55 - 1.92). If the liver was infected, that relative risk increased to 4.05 (95% CI, 1.45 - 8.71), Nielsen reported.
Viral infections increased the risk by 40% (RR, 1.40; 95% CI, 1.25 - 1.56).
"We know that we are dealing with a multifactorial etiology in the case of schizophrenia, so infection is probably not a single causal factor. The association between childhood infection and schizophrenia may be due to inflammatory responses affecting the brain, or genetic and environmental risk factors in certain families," Nielsen said.
"There are several schools of thought in terms of the infection-based hypothesis of the link between infection and schizophrenia," Emily G. Severance, PhD, from Johns Hopkins University School of Medicine in Baltimore, Maryland, commented to Medscape Medical News. She was not part of the study.
"Perhaps it is something that occurs prenatally that affects the development of the neurons in the developing brain, or perhaps it happens postnatally, as in this study, when the brain is still developing. Infection could also disrupt synaptic connections," Dr. Severance said.
"There are a number of different risk factors associated with the immune system and schizophrenia."
The study was supported by the Stanley Gerber Research Foundation. Dr. Nielsen and Dr. Severance report no relevant financial relationships.
14th International Congress on Schizophrenia Research (ICOSR). Abstract S73. Presented April 23, 2013.
Medscape Medical News © 2013 WebMD, LLC

Send comments and news tips to news@medscape.net.
Cite this: Childhood Infection Linked to Schizophrenia - Medscape - May 01, 2013.