ORLANDO, Florida — The prosocial peptide oxytocin, which has been found to foster trust, attachment, and a variety of positive emotional responses in healthy individuals, may improve social functioning in people with schizophrenia.
Results of a small randomized controlled trial presented here at the 14th International Congress on Schizophrenia Research (ICOSR) showed that oxytocin, delivered as an intranasal spray, significantly improved the ability of patients with schizophrenia to tell when people were being sarcastic or lying.
The hormone also improved the ability to discern moods, and it enhanced patients' ability to smell the floral aldehyde odorant lyral, a scent that individuals with schizophrenia have trouble detecting.
"We can usually treat the positive symptoms of schizophrenia, such as hearing voices, hallucinations, delusions, and paranoia, but we have not been very successful in treating the negative symptoms, the flat affect, difficulty with speech, social isolation," lead investigator Joshua D. Woolley, MD, PhD, from the University of California, San Francisco, and the San Francisco VA Medical Center, told Medscape Medical News.
"The fact that oxytocin appears to work on the negative symptoms is very promising."
Improves Olfactory Deficits
The investigators administered a single dose of oxytocin (401 IU) or placebo intranasally to 30 patients with schizophrenia and 31 healthy individuals.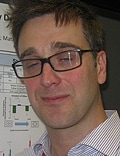 The average age of the study participants was 44 years (range, 23 to 61 years), all were male, and those with schizophrenia were controlled and were receiving stable medication doses.
After 35 minutes of receiving oxytocin, all participants were tested with a variety of measures.
These included the Awareness of Social Inference Test (TASIT), which uses short video clips of actors demonstrating different emotions in their voice and by their facial expressions to assess participants' ability to understand when the actors were telling white lies or using sarcasm, the Theory of Mind test, which asks participants to make judgments about the actors' thoughts, and the Munich Olfaction Test, which asks participants to identify lyral, anise, or clove scents.
Seven days after being tested, the participants returned and were crossed over to receive either oxytocin or placebo. They were then tested again.
The researchers found that oxytocin significantly improved the ability of the schizophrenia patients to interpret paralinguistic cues and to understand the different mental states, as depicted by the actors.
Specifically, oxytocin increased their ability to recognize sarcasm (P = .05), white lies (P = .02), and moods (P = .05).
The hormone also enhanced their detection of lyral, but not anise or clove, at lower concentrations.
In the healthy participants, however, oxytocin administration did not improve performance on any of these measures.
"The fact that oxytocin improves schizophrenia patients' ability to smell lyral, which they have trouble smelling, suggests that it may be the first pharmacological agent to remediate the olfactory deficits in schizophrenia," Dr. Woolley said.
"These findings need to be replicated in larger studies," he said.
Fix for Problem Social Situations?
Ingrid Melle, MD, from the University of Oslo, in Norway, agreed that the findings warrant replication.
"There has been a lot of interest in oxytocin in schizophrenia because of its effects on social bonding and relationships. These effects have been shown in both animal models and in healthy people, and the compound has been a focus of interest when it comes to disorders which have problems with reading social situations, like autism and schizophrenia," Dr. Melle told Medscape Medical News.
"From what we see in this study, oxytocin might be helpful for people who have problems with social cognition," she said. "It would be good to learn if these good effects are specific for schizophrenia or a more common effect, and more studies are warranted with this interesting compound."
Dr. Woolley and Dr. Melle report no relevant financial relationships.
14th International Congress on Schizophrenia Research (ICOSR). Abstract S279. Presented April 24, 2013.
Medscape Medical News © 2013 WebMD, LLC

Send comments and news tips to news@medscape.net.
Cite this: Oxytocin Makes Schizophrenia Patients More Socially Savvy - Medscape - Apr 29, 2013.