Introduction
Many physicians complain vociferously about electronic health records (EHRs): the difficulty of documenting in them and the resultant loss of productivity. A recent survey of 4279 physicians found that from 2010 to 2012, doctors' satisfaction with EHRs dropped significantly across all specialties and practice settings.[1] Online forums tell the same story: Many doctors attest that EHRs improve neither their efficiency nor their quality of care.
There's no doubt that EHR design flaws contribute to the unhappiness of many clinicians who find them difficult to use. But individual doctors and physician practices also make serious errors that can cause problems, sometimes without knowing why. Here are 10 mistakes that physicians commonly make with EHRs and advice on how to avoid them.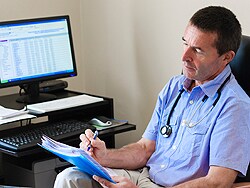 Mistake #1: Thinking a Site Visit Isn't Worth the Effort
Many physicians purchase an EHR without making a site visit to a similar practice that's using the same product, says Ron Rosenberg, a Sausalito, California-based practice management consultant. Not doing that, Rosenberg says, is a big mistake. "If the biggest barrier to successful use is a productivity penalty," he asks, "how can you possibly select a system without knowing exactly what it's going to take to see a patient while you're using that system?"
Rosenberg points out that some EHR vendors interface their products with "horrible practice management [PM] systems." PM systems that are part of integrated systems can also be poorly designed. "You have to evaluate the billing and PM side with as much due diligence as the EHR side, because it's your practice's financial livelihood," he notes.
There are other potential problems with EHR selection: Specialty practices, in particular, may buy an EHR that's not designed for their specialty, or doctors may choose an enterprise product that's inflexible and ill-suited to small practices. But employed doctors may not have a choice, Rosenberg observes.
Mistake #2: Signing an Unvetted Contract
"Never sign the contract the vendor puts in front of you without representation," says Mark Anderson, an EHR consultant in Montgomery, Texas. He advises doctors to use attorneys who can understand the contract from an operational as well as a legal standpoint.
Among the questions to ask vendors: How are you protected if something goes wrong with the EHR? What happens if the vendor doesn't deliver or delays installation? What if the vendor's trainer doesn't understand your problems or your practice? Is an exit strategy spelled out in the contract?
"I've had doctors who have bought products that have been sunsetted and are no longer supported, and they have to pay for them for 5 more years. There's no out for them," says Anderson. They'd still have to pay off their loan, he notes, even if the vendor decides not to get certified for Meaningful Use stage 2 and the physicians have to replace their EHR with a certified product.
Medscape Business of Medicine © 2013 WebMD, LLC

Cite this: Doctors' 10 Biggest Mistakes When Using EHRs - Medscape - May 01, 2013.