San Diego, California — The American Academy of Neurology (AAN) has elected its 33rd president. Timothy A. Pedley, MD, was elected today during the AAN's 65th Annual Meeting here.
Dr. Pedley, professor of neurology at Columbia University's College of Physicians and Surgeons and Attending Neurologist at the Neurological Institute of New York and New York Presbyterian Hospital at the Columbia University Medical Center, takes over from Bruce Sigsbee, MD, who has completed his 2-year term as AAN president.
"I'm honored to join the long line of distinguished neurologists who have served as president of the American Academy of Neurology," the president-elect said in a statement from the AAN. "Over the past few decades, there have been extraordinary changes in how we teach, diagnose, investigate, and treat diseases of the brain. I have witnessed and participated in the evolution of the Academy, seeing it grow in its capabilities and sophistication as an organization that provides valuable resources to meet the diverse needs of neurology professionals."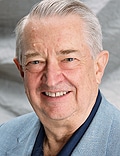 Previously, Dr. Pedley served as chair of Columbia's Department of Neurology and as neurologist-in-chief at the Neurological Institute from 1998 to 2011.
He has also served as president of the American Neurological Association, the American Clinical Neurophysiology Society, the American Epilepsy Society, and the Epilepsy Foundation of America, where he was later chairman of the board. He was also chairman of the American Board of Clinical Neurophysiology.
In addition, Dr. Pedley was editor-in-chief of Epilepsia from 1994 to 2001 and served on the executive committee of the International League Against Epilepsy. He was a member of the National Advisory Neurological Disorders and Stroke Council of the National Institute of Neurological Disorders and Stroke/National Institutes of Health from 2007 to 2011.
He is a fellow of the American Association for the Advancement of Science, and he was elected to the Institute of Medicine in 2007.
Medscape Medical News © 2013 WebMD, LLC

Send comments and news tips to news@medscape.net.
Cite this: AAN Elects New President - Medscape - Mar 19, 2013.