San Diego, California — A new study has suggested that sports-related concussions in children may lead to some measurable emotional and behavioral functioning problems in the months that follow the injury.
The study was presented by Ivet Hartonian, MD, from the University of California, Los Angeles (UCLA), here at the American Academy of Neurology (AAN) 65th Annual Meeting.
"Our results suggest that there can be long-term sequelae in children who have had a sport-related traumatic brain injury. Physicians need to be aware of this possibility. These results also emphasize the need to play sports as safely as possible and always wear a helmet if head injury is possible," Dr. Hartonian told Medscape Medical News.
"The pediatric brain is still developing. The worry is that if a child has a large traumatic brain injury they will not reach their destined cognitive ability," she added.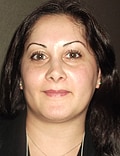 Limited Data on Children
An estimated 1.6 to 3.2 million sports-related concussions occur in the United States each year, and about half of these are in children or adolescents.
Dr. Hartonian reported that most of the current literature on sequelae of sports-related concussions comes from studies of professional or collegiate athletes, with limited data available on young children. The young brain poses a unique challenge to healthcare professionals because it is still undergoing active development, which can contribute to a unique set of pathophysiologic responses, she added.
"There isn't much data out there on long-term implications. We have seen some cognitive impairments after concussions in adults but there have been few studies in children," she told Medscape Medical News.
For this study, she and her colleagues analyzed data from 17 patients aged 11 to 16 years enrolled in the pediatric Traumatic Brain Injury Program at UCLA whose parents had completed pre- and post-injury Child Behavior Checklist forms within 6 months of the injury date. They included 12 male and 5 female patients who had experienced a sports-related concussion (23% from soccer and 17% from football).
When comparing pre- and post-injury scores, the researchers found a significant increase in somatic symptoms (P = .006), such as headache, abdominal pain, and dizziness, and also an increase in withdrawal or depression (P = .015). This finding suggests an effect on internalizing domains of the brain, which may be less obvious to parents as well as healthcare providers, Dr. Hartonian said.
Commenting on this research, Anthony G. Alessi, MD, from the Departments of Neurology and Kinesiology at the University of Connecticut, Norwich, pointed out that the study was too small to allow any definite conclusions and was also limited by the lack of a control group. "So it not necessarily something I would act on. But it is an interesting piece of information," he said.
"The advice I always give to parents is that they should carefully observe children for changes in sleep patterns, behavior, and diet over the few weeks/months after a concussion. If there are any changes, they should seek advice from a pediatric neurologist," Dr. Alessi added.
Authors of sports concussion guidelines released here at the meeting also found a profound lack of evidence on the effects of sport concussion in children. In the end, they extrapolated their recommendations for children from data showing that high school athletes tend to take longer for improvement in symptoms and neurocognitive performance after a concussion.
"So we make an extrapolation that if there's a trend that the high school athletes take longer to recover, that athletes younger than high school might show the same trend," said guideline coauthor Christopher C. Giza, MD, associate professor of pediatric neurology and neurosurgery at the UCLA Brain Injury Research Center, David Geffen School of Medicine at UCLA.
"We don't know; we listed that as an area for future research, then came to the conclusion that for athletes in high school and under, based on the evidence we have so far, would warrant being more conservative."
The study was supported by the Child Neurology Foundation/Winokur Family Foundation, Today's and Tomorrow's Children Fund, UCLA Brain Injury Research Center.
American Academy of Neurology (AAN) 65th Annual Meeting. Abstract P01.256. Presented March 18, 2013.
Medscape Medical News © 2013 WebMD, LLC

Send comments and news tips to news@medscape.net.
Cite this: Sports-Related Concussion in Kids May Have Complications - Medscape - Mar 19, 2013.