A false-positive screening mammogram can cause lasting psychological harm, according to a study from Denmark.
Even after 3 years of being declared free of suspected cancer, women who had a false-positive mammography result consistently reported greater negative psychosocial consequences than their peers with normal findings and those with true breast cancer, report John Brodersen, MD, PhD, and Volkert Dirk Siersma, PhD, from the University of Copenhagen.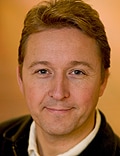 False-positive screening mammograms are "very common," Dr. Brodersen told Medscape Medical News. The cumulative risk in Europe and the United States of false positives in 10 screening rounds ranges from 20% to 60%. It is clear from this study that "psychosocial harms of the false results are substantial and last for years," Dr. Brodersen noted.
The study was published in the March/April issue of the Annals of Family Medicine.
Of the 1310 women who underwent screening mammography over a 1-year period, 464 women had abnormal test results (174 with breast cancer and 272 with a false-positive result) and 864 had normal results. At baseline and at 1, 6, 18, and 36 months, the women were asked to complete the Consequences of Screening in Breast Cancer, a validated questionnaire encompassing 12 psychosocial outcomes.
"I was surprised that during the first [6 months] after final diagnosis, the women diagnosed with breast cancer and the women with a false-positive finding were suffering the same degree of negative psychosocial consequences," said Dr. Brodersen.
"I was also surprised that for all 12 psychosocial outcomes measured, the pattern was consistent: 3 years after a false-positive finding, women experience psychosocial consequences that fall between those experienced by women with a normal mammogram and those with a diagnosis of breast cancer," he said.
Another expert also found the 3-year findings noteworthy.
"It is dramatic that 3 years after a false-positive screening there remained elevated psychological distress — mostly in anxiety-related symptoms," Holly G. Prigerson, PhD, who was not involved in the study, told Medscape Medical News.
Given false-positive rates of 60%, this suggests that "psychological harms" can be inflicted by screening, said Dr. Prigerson, who is director of the Center for Psychosocial Epidemiology and Outcomes Research at the Dana-Farber Cancer Institute, and professor of psychiatry at Harvard Medical School, in Boston, Massachusetts.
Some people have taken the findings to suggest that screening be conducted less frequently, Dr. Prigerson noted, but she thinks it highlights the "pressing need" for better screening tests to reduce the false-positive rate and increase the true-positive rate.
"It is a public health concern when there are enduring psychological fears flamed by such a high rate of false alarms," Dr. Prigerson said.
The other "clinical take-home," she said, appears to be the need for "stress inoculation" or psychological debriefing, so that a woman's fears are minimized and put into context. "Cognitive behavioral techniques that correct cognitive distortions (e.g., exaggerated fears not based on reality) might be helpfully applied to women given a false-positive diagnosis," Dr. Prigerson suggested.
The study was supported by the Danish General Practice Foundation, The Danish Cancer Association, Helsefonden, and The Novo Nordisk Foundation. The authors and Dr. Prigerson have disclosed no relevant financial relationships.
Ann Fam Med. 2013;11:106-115. Abstract
Medscape Medical News © 2013 WebMD, LLC

Send comments and news tips to news@medscape.net.
Cite this: False-Positive Mammogram Is Far From Harmless - Medscape - Mar 19, 2013.