Aspirin use has been linked to a reduced risk for yet another cancer.
Postmenopausal women who took aspirin on a regular basis reduced their risk for melanoma, and the longer they took it, the lower their risk, according to an analysis of the Women's Health Initiative (WHI) observational study, published online March 11 in Cancer.
"Aspirin and nonaspirin nonsteroidal anti-inflammatory drugs [NSAIDs] have been associated with a decreased risk of a variety of cancers, including gastric, colorectal, and breast cancer," senior researcher Jean Y. Tang, MD, PhD, from the Stanford University School of Medicine in California, told Medscape Medical News.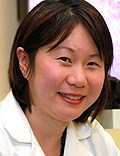 "These findings are consistent with other studies suggesting that this reduced cancer risk seen with aspirin is due to its anti-inflammatory properties," Dr. Tang said.
Credible Evidence
"This study provides credible evidence of a role for aspirin in the chemoprevention of melanoma, and adds to the existing body of research that implicates aspirin use in the prevention of tumors, including colon, breast, ovary, and lung cancers," Kirsten Moysich, PhD, professor of oncology at Roswell Park Cancer Institute in Buffalo, New York, who was not part of this study, told Medscape Medical News.
Dr. Tang said she was inspired to do this study because there are no drugs to prevent melanoma.
"The incidence of this deadly cancer is rising, especially among women. While the incidence and survival of women with breast cancer are improving, this is not the case for melanoma," she explained.
The WHI enrolled 93,676 postmenopausal women, 50 to 79 years of age, from 1993 to 1998 at 40 centers in the United States.
Because only 7 nonwhite women developed melanoma during follow-up period, Dr. Tang and colleagues focused on white women (n = 59,806) to assess the link between melanoma risk and aspirin (acetylsalicylic acid [ASA] and nonaspirin NSAIDs).
"We wanted to look at [white] women because less skin pigment is a risk factor for melanoma," Dr. Tang explained.
The women were divided into 3 groups: women who reported no NSAID use at study entry (n = 35,529), women who used both ASA and NSAIDs (n = 15,089), and women who used NSAIDs only (n = 9188 women).
During a median follow-up of 12 years, 548 incident melanomas were confirmed by physicians. Women who used ASA had a 21% lower risk for melanoma than nonusers (hazard ratio [HR], 0.79; 95% confidence interval [CI], 0.63 - 0.98).
Specifically, there were 115 cases (0.76%) of melanoma reported in the group using ASA and NSAIDs, 89 (0.97%) in the group using NSAIDs only, and 344 (0.97%) in NSAID nonusers (P = 0.06).
The researchers found that the protective effect of aspirin increased with duration of use.
There was an 11% decrease in risk at 1 year, a 22% decrease in years 1 to 4, and as much as a 30% decrease at 5 years and beyond (HR, 0.70; 95% CI, 0.55 - 0.94).
In contrast, there was no decreased risk for melanoma in women who used NSAIDs only, compared with those who did not use any NSAIDs (HR, 1.05; 95% CI, 0.83 - 1.34).
"This is the largest study — almost 60,000 women — to identify new ways to prevent melanoma," Dr. Tang noted. "Our study supports the use of aspirin for melanoma prevention and our findings support a clinical trial to directly test whether aspirin can be used for prevention," she explained.
Dr. Moysich added that aspirin is highly effective in reducing systemic inflammation, which contributes to tumor development.
"Thus, the observed findings are highly biologically plausible. Also, the prospective study design and the availability of detailed information on sun exposure, aspirin, and NSAID use strengthens the observed association," Dr. Moysich said.
"However, these findings only apply to older [white] women," she cautioned.
The study was supported by the Women's Health Initiative program, which is funded by the National Heart, Lung, and Blood Institute, National Institutes of Health, US Department of Health and Human Services; the National Institute of Arthritis and Musculoskeletal and Skin Diseases; and the Damon Runyon Clinical Investigator Award to Dr. Tang. Dr. Tang reports being a consultant for Genentech. Dr. Moysich has disclosed no relevant financial relationships.
Cancer. Published online March 11, 2013. Abstract
Medscape Medical News © 2013 WebMD, LLC

Send comments and news tips to news@medscape.net.
Cite this: Aspirin May Reduce Melanoma Risk - Medscape - Mar 12, 2013.