SAN FRANCISCO, California — Beeps, chirps, and alarms are the soundtracks of cardiac care units, but what if all that noise is harming, not helping, patient care?
That is the question at the heart of a new analysis from the PULSE study, addressing what the authors, not entirely tongue-in-cheek, call "an alarming overuse" of unnecessary ECG monitoring in cardiac units.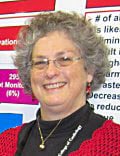 "ECG monitoring is just ubiquitous in hospitals," lead author Dr Marjorie Funk (Yale University School of Nursing, New Haven, CT) told heartwire . "Yes, it makes sense to do it in ICUs, but I think there is a lot of overmonitoring in other [settings]. People don't think of it as a problem, because it's noninvasive, so they think, let's put everyone on a monitor. But the downside is, there are all these alarms going off, and we know that up to 99% of these alarms are false, so staff start to ignore them. They're crying wolf all the time."
When staff ignore, or worse, deactivate the beeping machines, CV events may go unnoticed. "We know there have been a number of deaths reported," Funk said, "and we thought that a contributor to 'alarm fatigue' may be unnecessary ECGs."
For the study, research nurses reviewed medical records of current patients to determine whether they had a class I (indicated for all) or class II (possibly indicated, but not essential) indication for ECG monitoring of arrhythmia, ST-segment ischemia, and/or QTc interval, as defined by American Heart Association Practice Standards, or whether patients fell into class III (not indicated, because risk is so low). Their review included both wall monitors and telemetry units.
ECG Monitoring "Not Indicated" in One in Four Patients
Of 4678 patients in cardiac units at 17 hospitals, only 295 were not on ECG monitors. Of those currently under monitoring, a full 26% did not have any indication for an ECG monitor.
Of the 1140 patients in whom no monitoring was indicated, significantly fewer rhythm changes were recorded (p<0.0001). Two cardiac arrests occurred in the nonindicated group, but one of these, Funk said, occurred in an elderly woman in whom survival, monitored or not, was unlikely. "So only one patient event would have been missed."
They're crying wolf all the time.
The question, then, is whether catching one event warrants widespread, better-safe-than-sorry monitoring. The flip side is that important events are likely to be missed amid the cacophony, Funk explained.
Funk et al's poster was illustrated with a provocative photo of four ECG monitors, their printouts flowing directly into garbage bins. "That's really what it's like," Funk said.
"The number of false alarms is substantial, and if we could eliminate unnecessary monitoring, that could result in a higher proportion of clinically meaningful alarms and maybe a faster response time. This is a potential way to decrease sentinel events."
Not Getting Burned
Both physicians and nurse practitioners order an ECG monitor, although nurses typically set the parameters. Funk thinks that while many may not weigh the risks and benefits of unnecessary monitoring, those who knowingly order one "just in case" are those "who've been burned" in the past.
"But nurses live every day with this noise, and patients and families live with this noise, and it's probably not just 'noise,' which is what we are demonstrating here," Funk said. "I would like a more thoughtful approach to who gets monitored, and not put people on monitors just because they're available."
Funk added that her group has not evaluated any economic benefits, "but there are a number of sources of possible cost savings by reducing unnecessary monitoring. For example, costs associated with evaluating false alarms and resulting unnecessary interventions, charges of monitoring, monitor watcher personnel, cost of monitoring equipment, and education of nurses in areas with low use. "
As for the patients themselves, Funk said she was involved in an earlier study that showed that some post–heart-surgery patients got some peace of mind by being monitored, but for the majority of patients, this is probably not the case.
"It's noisy--they move a certain way, and the alarm goes off because the electrodes aren't attached securely. They brush their teeth and it looks like ventricular tachycardia. Sometimes those electrodes are itchy. I think many of my patients would be happy not to be on monitors."
Heartwire from Medscape © 2013 Medscape, LLC

Cite this: 'Alarming' Use of Unnecessary ECG Monitors, Ubiquitous, Possibly Harmful - Medscape - Mar 09, 2013.