Honolulu, Hawaii — Results of the Interventional Management of Stroke III (IMS-III) trial show no benefit of endovascular therapy after the use of intravenous (IV) thrombolysis over IV thrombolysis alone in the treatment of moderate to severe acute ischemic stroke.
Full results were presented here today at the International Stroke Conference (ISC) 2013 by principal investigator Joseph P. Broderick, MD, from the University of Cincinnati, Ohio, at a session dedicated just to this trial. Results were published online simultaneously in the New England Journal of Medicine.
"Overall, the combination therapy as compared to standard IV tPA [tissue plasminogen activator], there was no difference in safety," Dr. Broderick told Medscape Medical News, including hemorrhage rates and mortality. "But we didn't see a signal of efficacy, better functional outcomes," he said, with no statistical difference seen in the primary efficacy outcome between the groups.
There was some suggestion that patients with more severe strokes and strokes in the larger arteries may benefit from endovascular therapy, particularly if it can be provided rapidly, but further trials will be needed to demonstrate that, Dr. Broderick noted.
"I think the field should have pretty good equipoise now," he said. "It will be up to us to show, with the newer devices, given more quickly, can we improve the outcome?"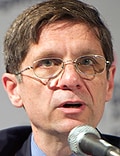 Threshold for Futility
IMS-III was a phase 3, randomized, open-label international trial comparing a combined intravenous and intraarterial stroke treatment with standard intravenous tPA alone. The planned target for patient enrollment was 900 patients, randomly assigned in a 2:1 ratio to combined vs standard therapy within 3 hours of stroke onset.
Endovascular therapy included a choice of catheters and devices or intraarterial tPA based on the lesion characteristics, the experience and training of the investigator, and the specified use of devices. At the outset, only 1 device was available, the Concentric Merci retriever, Dr. Broderick noted. "But we knew the technology would evolve, so we deliberately built into the design of the trial, that we could accept new devices as they became cleared by the FDA [Food and Drug Administration]," he said.
As reported previously by Medscape Medical News, the trial was halted in April 2012 when a preplanned interim analysis showed "a low likelihood of demonstrating the pre-specified clinically significant difference in benefit between treatment arms of the study," according to a statement from the National Institute of Neurological Disorders and Stroke, which funded the trial at that time.
The Data and Safety Monitoring Board's decision was based on the primary outcome of the trial, the modified Rankin score at 3 months, "meeting the threshold for futility," the statement added. "While enrollment was stopped because of futility, no serious safety concerns were identified."
At that time, 656 patients were enrolled. In the overall analysis, there was no statistically significant difference between the interventions on the primary endpoint, a modified Rankin scale score of 2 or less at 90 days, indicating functional independence.
The absolute difference between groups was 1.5% (95% confidence interval [CI], -6.1% to 9.1%), adjusted for stroke severity by National Institutes of Health Stroke Scale (NIHSS) score. A score of 8 to 19 indicated moderate to severe strokes, and a score of 20 or more, the most severe strokes.
"What we expected is that the more severe group would have a greater benefit potentially with the endovascular approach and actually that's what we did see," Dr. Broderick said at a press conference this morning. "We saw a trend in that direction, where there was a 7% difference in functional outcome between the endovascular group and the IV tPA group alone."
Table. IMS-III: Primary Endpoint
| | | | |
| --- | --- | --- | --- |
| Endpoint | IV tPA Plus Endovascular Therapy, n (%) | IV tPA Only, n (%) | Risk Difference (95% CI) |
| Overall | 177 (40.8) | 86 (38.7) | 0.02 (-0.06 to 0.09) |
| NIHSS score 8-19 | 146 (48.3) | 74 (49.3) | -0.01 (-0.11 to 0.09) |
| NIHSS score 20 or less | 31 (23.5) | 12 (16.7) | 0.07 (-0.04 to 0.18) |
Dr. Broderick also presented some prespecified subgroup analyses. Again, the initial NIHSS score was important, as was time from onset to start of IV tPA within 2 hours. In patients with a very severe stroke, who were treated with IV tPA within 2 hours, there was a 14% difference favoring endovascular therapy.
"It's a smaller group so we do not see statistical significance, but it certainly tells us a story of where we're going in the future," he said.
Finally, in an analysis looking at time to start of IV tPA, as well as time from IV tPA to groin puncture, a clear trend to better outcomes was seen for those who were treated within 90 minutes or less for both modalities.
Data not included in the published paper, on which clots locations may be most amenable to endovascular therapy, were also presented today by Andrew Demchuk, MD, from the University of Calgary, Alberta, Canada. Results of a post hoc analysis of computed tomographic angiography showed that carotid T/L occlusions and tandem internal carotid artiery+M1 occlusions showed greater recanalization and better outcomes with use of combined IV tPA and endovascular therapy.
There were no differences in the number of deaths between the groups at 7 or 90 days, or in symptomatic intracerebral hemorrhage (ICH) between the groups, he noted, although there was a significant increase in asymptomatic ICH with endovascular treatment (27.4% vs 18.9%; P = .01).
"So the conclusions are that the IMS-III trial failed to demonstrate a difference in functional independence as measured by the modified Rankin scale, but showed similar safety for IV tPA followed by endovascular therapy as compared to IV tPA alone," Dr. Broderick concluded. "Given data from the reperfusion trials in myocardial infarction, where time to treatment is very important, the strong relationship between onset-to-needle time and effectiveness of IV tPA, future trials of endovascular therapy must minimize delays to initiation of endovascular therapy."
Although they didn't show a significant benefit of endovascular therapy for patients with severe strokes and larger artery occlusions, he added, "a larger trial that is sufficiently powered to assess these subgroups might demonstrate efficacy."
Finally, Dr. Broderick urged that eligible patients be randomly assigned into trials to answer these questions. "IMS-III took a lot longer than we'd hoped because a number of centers were treating outside any trial, and even within the trial sometimes they made the decision that they didn't feel comfortable randomizing the patient. What we hope is that this trial at least will help people focus on getting people in trials so we can better define the use of endovascular therapy."
In the session where these results were presented more fully, moderator Patrick Lyden, MD, from Cedars-Sinai Medical Center, Los Angeles, California, pointed out that in the final slide, Dr. Broderick had reported the trial had "failed" on its primary endpoint. "I just wanted to close with the idea that our job as clinical trialists is to deliver to the public an unambiguous answer about a testable hypothesis. And to the extent that we now know within the confines of the study, it didn't work, we have a very successful trial."
Trial in Evolution
Asked for comment on these findings, Edward C. Jauch, MD, professor and director of emergency medicine, associate vice-chair of research in the Department of Medicine, and professor and director of emergency stroke services at Medical University of South Carolina, Charleston, pointed out that part of the challenge of conducting this type of long-term trial is that the technology, the science and even the standard of care also evolve over time.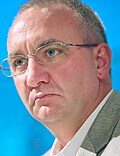 One of these developments is that of primary stroke centers; more patients are being treated with thrombolysis in smaller centers and transferred for endovascular therapy only if IV tPA is not successful or if they were outside the tPA window. "They now require transfer from hospital A to hospital B, and then they have to go from hospital B's emergency department to the cath lab, so each one of the steps along that stroke chain of survival, if you will, adds time," Dr. Jauch said. "And it's clear from our data from this trial, and previous trials, that time is brain.
"So this is in some ways a call to arms for the healthcare system and stroke systems of care, to really re-evaluate and be more introspective and evaluate these more severely affected stroke patients," he said. IMS-III showed a signal of benefit in the larger strokes and a benefit of treating all strokes in a timely fashion, he added.
"I think it reinforces that tPA works in a significant portion of patients, and we should still consider that our standard of care regardless of stroke severity, but beyond that, we need to take at the larger strokes and try to find ways of being more efficient at getting them the definitive care that they may need, which is what was alluded to in the IMS-III results, that the larger strokes had the greatest suggestion of benefit." This should become a "working hypothesis" for future trials, Dr. Jauch added.
For now, these results, as well as those presented yesterday on the SYNTHESIS Expansion trial, will not change the new acute stroke treatment guidelines released last week, on which Dr. Jauch was lead author. Endovascular therapy is still only a Level 2 recommendation, he noted, that is, it is "reasonable to consider" its use, particularly in those presenting beyond the 4.5-hour window for tPA, and in those with contraindications.
The IMS-III trial was funded by the National Institutes of Health and others.
International Stroke Conference (ISC) 2013. IMS 3: results and perspective. Presented February 7, 2013.
N Engl J Med. Published online February 7, 2013. Abstract
Medscape Medical News © 2013 WebMD, LLC

Send comments and news tips to news@medscape.net.
Cite this: IMS-III: No Benefit of Endovascular Therapy After Thrombolysis - Medscape - Feb 07, 2013.