The Fungal Meningitis Epidemic
The epidemic of fungal meningitis that began in the fall of 2012 involved 3 contaminated lots of vials of prednisone that were used for spinal and joint injections. The 3 contaminated lots were distributed to 76 facilities in 23 states. At last count (January 2013), 13,534 persons were exposed. More than 99% of these individuals were contacted, and 678 patients in 19 states are known to be infected, with 44 deaths.
The heroes of the story were Dr. April Pettit of Vanderbilt University and Dr. Marion Kainer of the Tennessee Department of Health. Dr. Pettit took care of the first recognized patient who had Aspergillus meningitis and a history of receiving a spinal steroid injection 1 week earlier. She connected the dots and notified the state health department, where Dr. Kainer worked day and night, sleeping on a cot in the office to follow up possible cases.[1]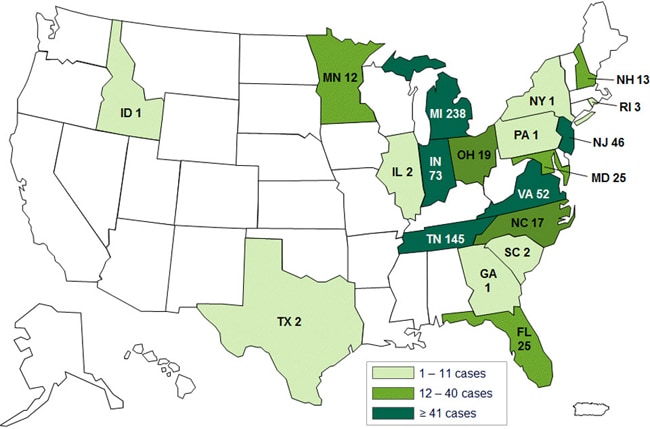 Figure 1. CDC case count map for January 14, 2013.
Six days later, on September 24, in concert with the Centers for Disease Control and Prevention (CDC), Dr. Kainer contacted the New England Compounding Center in Framingham, Massachusetts, requesting the distribution list.[2] The implicated vials contained 4 different fungi, but the one that was implicated in the cases was a soil fungus, Exserohilum, that was detected in 112 cases. A single index case was caused by Aspergillus, and the others were negative by culture and polymerase chain reaction (PCR).
Most of the cases presented within 42 days of the exposure, but recent reports indicate continuing need for follow-up because of late presentations in some patients with subtle symptoms. The CDC consequently recommends a "low threshold" for a diagnostic lumbar puncture, and making a presumptive diagnosis based on a history of exposure, plus at least 5 white blood cells/mL in the cerebrospinal fluid. An MRI scan with contrast has also proven effective in detecting these late cases.[3]
The incident has called attention to regulatory responsibility for compounding pharmacies, which is not held by the CDC nor the US Food and Drug Administration (FDA) but rests with the state boards of pharmacy.[4] Recent congressional hearings suggest that this is likely to change.
More From Medscape
Multistate Outbreak of Fungal Infection Associated With Injection of Methylprednisolone Acetate Solution From a Single Compounding Pharmacy
Medscape Infectious Diseases © 2013  WebMD, LLC

Cite this: 2012's Top 10 Stories in Infectious Disease That Will Change Practice - Medscape - Jan 24, 2013.