Bioengineers at a British university have found a way to fabricate a biodegradable membrane with microscopic 3-dimensional features that protect transplanted limbal stem cells as they reepithelialize damaged corneas.
In a report published online November 3, 2012, in Acta Biomaterialia, Ílida Ortega Asencio, PhD, from the Biomaterials and Tissue Engineering Group, Department of Materials Science and Engineering, Kroto Research Institute, University of Sheffield, United Kingdom, and colleagues point out that this cellular scaffolding could greatly expand the availability of sight-restoring limbal stem cell transplants, particularly in medically underserved areas.
At this time, the most common substrate for these grafts is human amniotic membrane, a scarce resource that also necessitates a tissue bank and lengthy testing for infectious disease.
To produce the new synthetic material, the researchers first used microstereolithography to make a 3-dimensional template in a nondegradable material. They then used electrospinning to turn liquid streams of poly(lactic-co-glycolic acid) (PGLA), a copolymer that is commonly used in dissolvable sutures, into microscopic tangles on the template.
The resulting copolymer disc, with a diameter of 1.2 cm, is thinner and more transparent in the center than along the outermost ring.
Once on the cornea, the membrane would degrade over the course of 1 to 4 weeks, depending on thickness, the researchers estimate. Micropockets (100 - 180 μm deep and 150 - 300 μm in diameter) are located in a ring around the thicker periphery.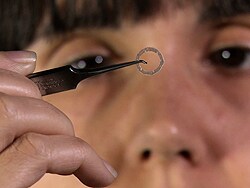 "We anticipate that the outer ring may act as an artificial limbus, presenting microenvironments that will protect transplanted cultured cells, thus essentially acting as a stem cell reservoir," they write. "The inner area will allow cells to move over the denuded cornea for corneal regeneration."
The micropockets are an attempt to mimic nature, explained coauthor Sheila MacNeil, PhD, a professor of tissue engineering at the University of Sheffield.
"In a healthy eye, the stem cells are thought to live in little micropockets around the limbus [the palisades of Vogt], which are big enough to hold about 30 cells," she said in an interview with Medscape Medical News.
"But usually the cause of stem cell deficiency is trauma, where you have lost the natural niches as well as the stem cells. And amniotic membrane doesn't have little pockets at all, " she added.
Dr. MacNeil speculated that this might be a reason for longer-term failures of limbal stem cell transplants.
"The short-term results with the cultured cells are brilliant, around 80% to 90% success in first year. By 3 years it is 50% or 60%," she noted. "Physicians are not sure what's going on, but the frontrunner is that the patient's cornea is damaged and there aren't these little pockets. Nobody has the proof of that. But, thinking on those lines, we decided that if we were going to build some membranes they would have micropockets in them."
Contacted at McMaster University in Toronto, where she is a ophthalmic materials researcher and a professor of chemical engineering, Heather Sheardown, PhD, told Medscape Medical News that the Sheffield study was "generally sound' and "quite innovative."
"This is an interesting approach, and research is clearly demonstrating the importance of scaffold morphology on the success of cell implantation," Dr. Sheardown said. Dr. Sheardown was not involved in the study.
She added: "The main question might be the degradation products from the PGLA. In vivo testing will be necessary to demonstrate the biocompatibility of the scaffolds. While PGLA has been used previously as sutures, the amount of PGLA in these systems might cause problems. Testing with stem cells might also be necessary, but this is a relatively early study."
The Sheffield group is collaborating with Virender Sangwan, MD, and colleagues at the L V Prasad Eye Institute in Hyderabad, India. The physicians there expect a study of the synthetic membrane's clinical performance to begin by the end of 2013, Dr. MacNeil said.
She added that the trial also will be a larger test of Dr. Sangwan's new procedure, recently published as a case series, for harvesting limbal stem cells from a patient's healthy eye and immediately transplanting them to the affected fellow eye, without first expanding them in culture.
The research is supported by a Wellcome Trust Affordable Healthcare for India Award. The University of Sheffield holds a patent on the new microfabrication process. Dr. Ortega Asencio is supported by a research fellowship from the UK Engineering and Physical Sciences Research Council. Dr. Sheardown has received grants from the Canadian government and from various ophthalmic materials companies. She holds a pending patent on thermally responsive cell delivery scaffolds for use in the back of the eye.
Acta Biomater. Published online November 3, 2012. Abstract
Medscape Medical News © 2013 WebMD, LLC

Send comments and news tips to news@medscape.net.
Cite this: Bioengineers Unveil New Scaffold to Repair Damaged Corneas - Medscape - Jan 09, 2013.