Introduction
Many physicians have chosen an electronic health record (EHR) and are now unhappy with their choice.
Multiple issues can lead to that situation. First, doctors might not have purchased the right product, for a variety of reasons. For example, they might have outside influences who tell them to use a particular product. Second, physicians might not be completely engaged in the selection of the product. And third, in some cases, doctors buy the right product but they are just not using it effectively.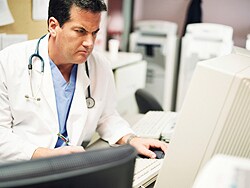 To figure out which of those situations might be affecting you, go back and look at how you made the decision and how engaged you were in making that decision. In some cases, doctors literally have said to their staff, "Go find an EHR product for me and I will use it." Or, when looking at a product, they don't invest the time in understanding it or they don't make site visits to see how they can use the product successfully.
The bottom line is, physicians who are making the decision about which EHR to buy have to realize how profoundly the decision will affect all aspects of the practice. Even in a multiphysician practice, you must ask: Are we going to use this system? Are we willing to put in the time and effort and adjust to adopting this tool into the style of how we practice medicine? If you can't answer those questions in a positive way, you are putting a lot of risk on the table regarding your EHR.
When looking to adopt an EHR, you must make decisions about redesigning how your practice is going to operate.
Changing the Whole Practice Workflow
As a national EHR consultant and author, I tell people that they have to take the whole practice apart and put it back together again, no matter how big or how small the practice is, because everything they do right now is tethered to that paper record. If that tether no longer exists, they have to figure out how they will operate in their environment without this piece of paper.
For example, clinicians may be used to this type of system: if the chart is in the door this way, it means that the patient needs to see a doctor. If it's in the door that way, a nurse is supposed to go in. If a paper record doesn't exist, how will I know which it is? I have been flipping through this chart for years, I know all the visual cues, and now I have to sit there and flip around in this computer system.
In many cases, I have to redesign the system from a workflow perspective. I also have to consider how doctors interact with patients so that they get the information they need and put it into the EHR. That's a lot of change that somebody has to engage in; it's not such an easy thing.
Lack of training is another reason why physicians may dislike the EHR. The reality is that the practice must become independent from the vendor. Nobody has enough money in their pockets to pay the vendor to be there for months. The vendors come in, train everybody on the EHR, and then pull their people. You may not be willing -- or have the resources -- to pay for them to stay.
Even if you have those resources, you will come to a point where they will leave your practice, go back home, and you will be left to run the system yourselves.
Medscape Business of Medicine © 2013 WebMD, LLC

Cite this: Unhappy With Your EHR? Here's How to Improve the Situation - Medscape - Jan 17, 2013.