A minimally invasive method of stem cell transplantation extended lifespan and improved neuromuscular function in an animal model of amyotrophic lateral sclerosis (ALS), a progressive, neurodegenerative disease characterized by loss of motor neurons, according to new research.
The study was the first to use induced pluripotent stem cells (iPSCs), which are adult somatic cells, such as skin fibroblasts, that are reprogrammed into pluripotent cells, similar to embryonic stem cells.
The results hold out promise for a similar strategy in humans, according to study author Stefania Corti, MD, PhD, assistant professor of neurology, Department of Pathophysiology and Transplantation, Neurosciences Unit, University of Milan, Italy.
"Effective treatments are urgently needed and stem cell transplantation represents a promising strategy for ALS," Dr. Corti told Medscape Medical News. The iPSCs show great potential as a cell source for such a strategy because they're "ethical and reproducible" and the minimally invasive procedure used in this study can be translated into patients, she said.
The study findings will be presented at the upcoming American Academy of Neurology 65th Annual Meeting in San Diego.
Reprogrammed Cells
The researchers transplanted reprogrammed cells intrathecally or by systemic intravenous injection into ALS mice (SOD1G93A mice). The iPSC cell lines were derived from skin fibroblasts from healthy human participants, using a "nonviral, nonintegrating method," said Dr. Corti.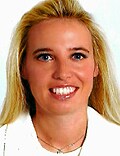 The study found that both intrathecally and systemically grafted neural stem cells migrated into the parenchyma and engrafted the host spinal cord, expressing neuronal precursors and neuronal mature specific markers. The cell transplantation promoted the survival of motor neurons, significantly prolonged the lifespan in the mice by 20 days, and improved neuromuscular function by 15%.
There is currently no effective treatment for ALS. "The pathogenetic mechanisms of ALS are still largely unknown, hampering the development of effective therapies," explained Dr. Corti. "Motor neuron degeneration is probably both a cell autonomous and a nonautonomous event in which glia and microglial cells play a major role."
Manipulating the diseased microenvironment via cell replacement could represent a new therapeutic strategy, said Dr. Corti. Neural stem cells could offer different neuroprotective actions and ultimately replace degenerated cells.
The next step for the research team is to investigate more closely the mechanisms of therapeutic action of engrafted cells to eventually genetically modify them to increase the overall effect of this transplant approach.
The idea is to eventually use the strategy in patients, said Dr. Corti. "We would like to increase the extent of the data about the safety and effectiveness of this strategy towards a responsible clinical translation in humans."
However, many issues must be resolved before iPSCs can be used in the clinical setting, she said. For one thing, the cells must correspond to requirements defined by the US Food and Drug Administration and the European Medicines Agency. However, such hurdles "are not inherently insurmountable," said Dr. Corti.
Similar stem cell transplants could be a potential therapeutic strategy for other neurodegenerative disorders, including Parkinson's disease and Alzheimer's disease. "iPSCs represent a promising, yet unexplored, tool," said Dr. Corti.
Although her group is one of few focused on this strategy for ALS, she said, "our study could pave the way for clinical translation of stem cell therapy for neurodegenerative diseases."
Dr. Corti stressed that any application to humans has to be carefully proven to be safe and effective in a preclinical setting.
Natural Extension
Asked to comment on the research abstract, Eric Sorenson J., MD, a neurologist at the Mayo Clinic in Rochester, Minnesota, with a research interest in ALS, said the study is a natural extension of the stem cell work that has been evolving in the field.
"Its importance lies in the finding that the cells remain viable after injection and migrated to the nervous tissue," Dr. Sorenson told Medscape Medical News.
However, Dr. Sorenson did not find the animal survival data to be particularly novel. "A number of experimental treatments have shown modest benefit on transgenic SOD mouse survival and then failed to show benefit when studied more carefully," he said.
He stressed that it's not possible to assess the reliability or validity of the data from an abstract alone. "So one has to careful about their conclusions until the data is fully displayed and their results are independently confirmed."
The study was supported by: AriSLA, The Italian Foundation for Research on Amyotrophic Lateral Sclerosis (ALS)
American Academy of Neurology 65th Annual Meeting. Abstract 279. Released January 9, 2013.
Medscape Medical News © 2013 WebMD, LLC

Send comments and news tips to news@medscape.net.
Cite this: Stem Cell Transplants in Animal Model of ALS Promising - Medscape - Jan 09, 2013.