Introduction
Female physicians appear to have a sunnier view of the medical profession and its future than their male counterparts.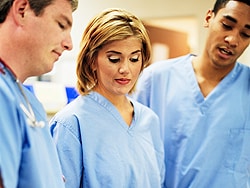 In a survey of nearly 14,000 physicians completed in September on behalf of The Physicians Foundation, Merritt Hawkins, a physician search and consulting firm based in Irving, Texas, found that female doctors are more likely to rate their morale as positive than male doctors. They're more optimistic about the future of the profession. They are also more likely to say that health reform will improve care and electronic medical records will enhance quality. In fact, across virtually all categories, women had a brighter take on medicine than men.
The differential may have important implications for the future of medicine, says Merritt Hawkins Senior Vice President Travis Singleton.
Currently, one third of physicians active in patient care are female, Singleton says, "but if current trends continue, a generation from now the vast majority of our doctors will be female, and that will change a lot of things about our healthcare delivery system. We need to understand the makeup of the workforce that will be delivering care."
Looking on the Bright Side
Gender aside, physicians aren't a particularly optimistic lot at the moment. The seismic shifts of the last decade have rattled a lot of nerves.
"No one is skipping down the streets saying, 'All our problems are solved,'" says Singleton. Still, as a general rule, female doctors who responded to The Physicians Foundation's 2012 Practice Patterns and Perspectives survey were more optimistic than male physicians. Among the findings:
35.5% of female respondents rate their morale as positive, compared with 31.0% of male doctors;

26.2% say health reform will improve care, compared with 21.5% of men;

45.8% are optimistic about the future of the profession, compared with 40.5% of men

24.7% say electronic medical records (EMRs) will improve quality of care, compared with 16.2% of men; and

30.8% see hospital employment as a positive trend, compared with 22.2% of men.
Why the difference?
Part of the variation probably has less to do with gender than with such factors as practice setting, specialty area, age, workload, and income, all of which apply to both male and female respondents.
On the whole, female physicians tend to be younger than male doctors; according to the American Medical Association, 40% of female physicians are aged 40 years or younger, compared with 24% of male physicians. They're more likely to be employed by hospitals and in primary care settings, such as family practice, internal medicine, and pediatrics.
Those characteristics may be more relevant to female physicians' outlook than their gender is, Singleton says.
"Younger physicians are relatively happier than older ones," Singleton says. "Females tend to be in primary care, and primary care physicians have benefited from healthcare reform changes, which have come at the expense of specialists. And female physicians are more likely to be employed by hospitals, so they don't experience the pressures of trying to maintain a private practice."
Indeed, female physicians reported working 6% fewer hours than male respondents, and their incomes -- certainly a critical component of job satisfaction -- were more stable. More than 16% of female respondents said their income from medicine increased in the past 3 years, compared with less than 13% of male respondents. Male physicians, conversely, were significantly more likely to report a decline in income over the past 3 years: 48.8% vs 39.9% of women.
As to what role -- if any -- gender itself plays in shaping respondents' answers, that's impossible to say, because an opinion poll isn't a controlled study. Still, Singleton insists the markedly different attitudes expressed by male and female physicians may have important implications for patients, policymakers, and employers because they reflect the mindset of an emerging workforce.
Medscape Business of Medicine © 2013 WebMD, LLC

Cite this: Female Doctors May Have a Rosier View of Medicine - Medscape - Jan 31, 2013.