When a Doctor's Love Affair Is Malpractice
In late November, New York's highest court, the Court of Appeals, issued a ruling that surprised some and angered others. With all 7 judges concurring in a memorandum, it ruled that a Long Island family physician's 9-month affair with a female patient whom he was treating for anxiety and depression constituted medical malpractice, according to an Associated Press story posted on Wall Street Journal online.[1]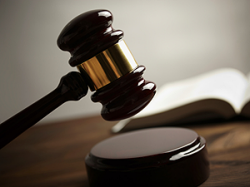 The high court upheld the $338,000 in damages a jury had awarded to the plaintiff, former model Kristin Kahkonen Dupree. But it set her fault at 25%, thereby reducing her award by that percentage. It also stripped another $166,000 in punitive damages from the award, finding that the doctor, James E. Giugliano, had not behaved maliciously.
According to the AP story, the affair ended in 2002, and Dupree sued Giugliano for malpractice 3 years later, arguing that the romantic feelings she felt toward him were the result of "eroticized transference." The defendant contended, in turn, that the affair was consensual and that it was unrelated to treatment, because the plaintiff had initially sought his care for a gastrointestinal condition.
In its ruling, the Court of Appeals said that because "the defendant was prescribing a course of treatment for the plaintiff's mental health problems...a jury might reasonably conclude that the sexual relationship was substantially related to and, in fact, interfered with the treatment so as to constitute medical malpractice." But that fact, said the court, did not "negate comparative fault. The affair continued for 9 months, during which time both plaintiff and defendant clearly sought out repeated sexual encounters."
The attorney representing Dr. Giugliano praised the court for tossing out the punitive damages, but he reiterated his argument that the case was unrelated to medical malpractice and that "therefore the action should have been simply dismissed" from the onset.
The plaintiff's attorney said that, in addition to the court being wrong on the law, the defendant showed no remorse. "He testified that he knew it was wrong to have sex with a patient and he did it anyway," the attorney noted, adding, "[The court] said she was 25% responsible for her own sexual exploitation once it went on for a while."
Medscape Business of Medicine © 2012 WebMD, LLC

Cite this: This Doctor's Love Affair Became Malpractice; Peer-Review Privacy; and More - Medscape - Dec 13, 2012.