December 8, 2012 — Atlanta, GA — Maintaining a lower hematocrit (HCT) can help lower the risk for cardiovascular (CV) death in patients with polycythemia vera, according to the results of a new study. Those who had an HCT of 45% to 50% had a risk for death from CV causes or major thrombosis that was 4 times that of patients who maintained an HCT of less than 45%.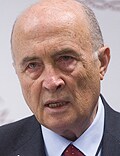 "Therefore, a hematocrit level of less than 45% is the target of therapy in polycythemia vera," said Tiziano Barbui, MD, lead author and professor of hematology and scientific director of the Research Foundation at Ospedali Riuniti di Bergamo in Italy.
The study, which is due to be presented during a plenary session here at the annual meeting of the American Society of Hematology, has been simultaneously published in the December 8 issue of New England Journal of Medicine.
The patient group with low HCT had a mortality incidence from CV causes or major thrombosis of 1.1 per 100 person-years. This was in comparison with 4.4 per 100 person-years in the high HCT group.
The total rate of CV events was 4.4% in the low HCT group, compared with 10.9% in the high HCT group (hazard ratio, 2.69; P = .02).
Need for Randomized Trial
Polycythemia vera is a rare condition that is characterized as a panhyperplastic, malignant, and neoplastic marrow disorder. The most prominent feature of this disease is an elevated absolute red blood cell mass caused by uncontrolled red blood cell production; this is frequently accompanied by increased white blood cell and platelet production.
Current treatment recommendations in polycythemia vera have emphasized the need to maintain HCT values at less than 0.45; this is based on the results of a few small observational retrospective studies and the consensus of experts. However, there remains uncertainty regarding the usefulness of strict control of hematocrit, explained Dr. Barbui, who spoke here at a press briefing held in advance of the presentation of the study results.
"More intensive therapy to reach the hematocrit target could result in poor tolerance and treatment toxicity," he said.
However, post hoc analysis of 2 large randomized clinical trials (PVSG-1 and ECLAP) failed to show a different incidence of major thrombosis when HCT levels were kept in the range between 0.40 and 0.50. Thus, there was a need for a randomized clinical trial to provide evidence-based data that would assess the usefulness of tight hematocrit control in reducing thrombosis, explained Dr. Barbui.
Attention to the "Lowly" Hematocrit
In an accompanying editorial, Jerry L. Spivak, MD, notes that in the genomic era, some may question "attention given to a measurement as mundane as the hematocrit."
However, the current study resolves a half century of debate about the role of phlebotomy in this disorder, and has ramifications for diagnosis and management, writes Dr. Spivak, from Johns Hopkins University School of Medicine, in Baltimore, Maryland.
From a diagnostic perspective, the study also confirms the inaccuracy of the World Health Organization criteria with respect to hematocrit for the diagnosis of polycythemia vera, he says.
He points out that a limitation of this article is that it does not address the differences between genders. "Women normally have a lower red cell mass and hematocrit than men, and women with polycythemia vera are at risk for intra-abdominal venous thrombosis with an apparently normal hematocrit," Dr. Spivak writes. Therefore, although this target is adequate for men, it is inadequate for women, who, as based on other data, should have a target hematocrit of less than 42%.
Lower Incidence of Events
In this large-scale, randomized, prospective clinical trial, known as Cyto-PV, Dr. Barbui and colleagues determined the efficacy and safety of maintaining the recommended hematocrit target level vs those in the higher range of 0.45 to 0.50, to prevent thrombotic events in this population. They enrolled 365 patients from February 2008 to May 2012.
Patients with newly diagnosed disease and those who had been previously treated were randomly assigned to Arm A (n = 182; HCT <0.45) or to Arm B (n = 183; HCT, 0.45 to 0.50). Those in Arm A received more intensive treatment to keep the hematocrit at less than 45%, while Arm B received less intensive therapy to maintain a target hematocrit of 45% to 50%.
The composite primary end points of the study were major thrombosis (stroke, acute coronary syndrome, transient ischemic cerebral attack, peripheral arterial thrombosis, pulmonary embolism, abdominal thrombosis, deep vein thrombosis) and cardiovascular death.
Secondary end points included the incidences of hematologic transformation to myelofibrosis and acute leukemia, cardiovascular events, hospitalization due to cardiovascular events, hemorrhage, and incidence of cancer.
No significant differences were noted between the 2 groups in terms of factors such as age, gender, years from diagnosis to recruitment, previous history of major thrombosis, bleeding, or concomitant cardiovascular risk factors, and therapy was equally distributed with regard to phlebotomy, antiplatelet drugs, and warfarin and hydroxyurea or combinations.
Within the cohort, 265 patients (67.1%) were considered to be at high risk because they were 65 years of age or older or had experienced previous thrombosis. In addition, 91 patients (24.9%) had thrombotic events more than 12 months before undergoing randomization.
At a median follow-up of 31 months, the median hematocrit levels in Arms A and B were 44% and 48%, respectively. Approximately a quarter of the patients in each group did not maintain the assigned hematocrit levels, and leukocyte levels remained higher in Arm B than in Arm A, while no difference was observed in the platelet count.
The primary end point was recorded in 5 patients (2.7%) in the low hematocrit group and in 18 patients (9.8%) in the high hematocrit group (hazard ratio in the high hematocrit group, 3.91; P = .007).
Progression to myelofibrosis, myelodysplasia, or leukemic transformation, along with bleeding, was observed in 6, 2, and 2 patients, respectively, in the low hematocrit group, vs 2, 1, and 5 patients, respectively, in the high hematocrit group. The authors note that 7 solid tumors were observed in the low hematocrit group and 5 in Arm B. One additional hematologic cancer occurred in each group.
At the end of the study period, 4 patients (2.2%) in the low hematocrit group and 5 patients (2.7%) in the high hematocrit group had halted or switched therapy, primarily because of disease progression. No significant differences in adverse events were noted between the 2 groups.
The study was supported by grants from the Italian Medicines Agency and the Special Program Molecular Clinical Oncology 5x1000 of the Associazione Italiana per la Ricera sul Cancro-Gruppo Italiano Malattie Mieloproliferative Project. Several of the authors have disclosed relevant financial relationships, as noted in the article.
American Society of Hematology annual meeting, December 9, 2012: Abstract 4
N Engl J Med. Published December 8, 2012.
Medscape Medical News © 2012 WebMD, LLC

Send comments and news tips to news@medscape.net.
Cite this: Lower HCT Prevents CV Events in Polycythemia Vera - Medscape - Dec 08, 2012.