December 8, 2012 — Atlanta, GA — A new study from France confirms that the cardiotoxic anthracycline daunorubicin can be omitted from the induction treatment of patients with childhood acute lymphoblastic leukemia (ALL).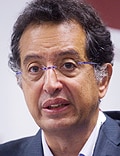 It is already standard practice in the United States, but this practice is based on a study that did not address exactly the role of daunorubicin in induction, whereas this one does, said lead author Andre Baruchel, PhD, MD, head of the Department of Pediatric Hematology at the Robert Debré University Hospital in Paris, France. Many other countries still use daunorubicin in the induction regimen, and it has been unclear whether it is really necessary, he added.
"Our trial shows that it is dispensable," Dr. Baruchel said. He was speaking at a press briefing here at the American Society of Hematology annual meeting, ahead of his presentation tomorrow of results from the phase 3 Fralle 2000 study.
This is a "very important study," commented Armaud Keating, MD, ASH president and professor of medicine and director of hematology at the University of Toronto, in Ontario, Canada.
ALL is one of the success stories in hematologic malignancies, with cure rates of 85% to 90%, he commented. However, although these children are cured of their leukemia, unfortunately, some of them will develop late complications of their treatment. One of these late effects is cardiomyopathy resulting from use of the cardiotoxic anthracyclines.
"We are talking about a minority of patients, but nonetheless, the complication is devastating in those patients who are affected, as some of those patients eventually succumb to heart failure and may even become candidates for a heart transplant," he added.
In this new study, patients were randomly assigned to receive or omit daunorubicin from the induction chemotherapy regimen, and results show that outcomes were similar whether or not daunorubicin was included.
Although farther down the line, these patients will require more chemotherapy that will include another anthracycline, doxorubicin. This study shows that it can be omitted up front for induction therapy, Dr. Keating said. It will be important to document the expected reduction in heart complications in these children who had daunorubicin omitted from the induction therapy, he added.
Complex Therapy Regimens
The Fralle 2000 study was conducted at 20 centers across France and at 1 center in Belgium in children (1 to 10 years of age) with standard risk B-cell ALL. All patients in the trial were initially treated with the standard combination of vincristine, dexamethasone, and asparaginase, and response to this treatment was assessed in a bone marrow sample at day 21. About 95% of patients responded well, and 1128 children with a good response went on to be randomly assigned to receive daunorubicin or not. (Daunorubicin was administered at 40 mg/m2 on day 22 and day 29.)
The remaining 5% of patients, who had not responded well to the initial therapy, were not randomly assigned, and all went on to receive daunorubicin, Dr. Barchel explained. These patients were judged to be at high risk, and in treating them, "we did not want to take any chances," he explained.
After the randomized part of the trial, all patients went on to receive a whole succession of further therapy, which included consolidation therapy with vincristine, dexamethasone, mercaptopurine, and oral methotrexate. This was followed by a first delayed intensification therapy with 75 mg/mm2 doxorubicin, then by interphase therapy with vincristine, dexamethasone, 6-mercaptopurine, and methotrexate; finally, patients received a second delayed intensification therapy with vincristine, methotrexate, and asparaginase. All went on to receive maintenance therapy for 24 months, which included 12 pulses of vincristine and dexamethasone in the first year.
Similar Outcomes
The results presented by Dr. Baruchel show that outcomes were similar whether patients received daunorubicin or whether they skipped it.
The 5-year event-free survival (EFS) was 92.9% with daunorubicin compared with 93.3% without daunorubicin, and 5-year overall survival was 97.2% and 98.2%, respectively. In addition, there was no difference between the 2 arms in terms of complete remission rates or minimal residual disease, Dr. Baruchel said.
"Daunorubicin is dispensable in induction therapy in standard risk B-lineage ALL patients with good responses to vincristine, dexamethasone, and asparaginase," he concluded.
"We now have strong evidence that reducing the amount of chemotherapy initially administered to these children, who constitute the majority of ALL patients, does not negatively affect their immediate outcome," Dr. Baruchel said. "Perhaps more importantly, we know and anticipate that removing harmful chemotherapy from their treatment can help minimize their risk of experiencing heart damage later in life," he added.
Dr. Baruchel has disclosed no relevant financial relationships. Dr. Keating has served on the data safety monitoring board for Clavis, Novartis, and Pfizer.
American Society of Hematology Annual Meeting: Abstract 135
Medscape Medical News © 2012 WebMD, LLC

Send comments and news tips to news@medscape.net.
Cite this: Same Outcomes if Daunorubicin Omitted in ALL Induction - Medscape - Dec 08, 2012.