Four atypical antipsychotics (AAPs) commonly prescribed off label in older adults lack both safety and efficacy, new research shows.
Conducted by investigators at the University of California, San Diego (UCSD), the study investigated aripiprazole (Abilify, Otsuka), olanzapine (Zyprexa, Lilly), quetiapine (Seroquel, AstraZeneca), and risperidone (Risperdal, Janssen) in 332 patients older than 40 years who had been diagnosed with psychosis associated with schizophrenia, mood disorders, posttraumatic stress disorder, or dementia.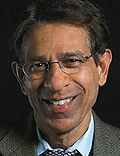 "Our study suggests that off-label use of these drugs in older people should be short-term and undertaken with caution," said lead author Dilip V. Jeste, MD, Estelle and Edgar Levi Chair in Aging, Distinguished Professor of Psychiatry and Neurosciences, and director of the Stein Institute for Research on Aging at UCSD.
The study was published online November 27 in the Journal of Clinical Psychiatry.
Minimizing Bias
Most antipsychotic prescriptions in people older than 40 years involve off-label use of AAPs, the authors write. There has been "growing concern" about cardiovascular and metabolic morbidity with certain AAPs. The US Food and Drug Administration issued a warning regarding cerebrovascular adverse events and a boxed warning regarding increased mortality with AAP use for dementia-related psychosis.
Because the patients in the current study were all diagnosed with conditions with psychotic symptoms that required antipsychotic drug treatment according to their treating physicians, no placebo was used in the trial.
Instead, the researchers used equipoise stratified randomization — a hybrid of complete randomization and a clinician's choice method. This approach allowed patients or their treating psychiatrists to exclude 1 or 2 of the AAPs on the basis of past experience or anticipated risks associated with a particular drug. Optimal dose was determined by the treating physician.
"Our goal," Dr. Jeste explained, "was to ensure clinical relevance. We attempted to make the study as 'user-friendly' as possible, to allow the drugs the best chance of success, while seeking to minimize the amount of bias."
Patients were followed for up to 2 years, with assessments at baseline, 6 weeks, 12 weeks, and every 12 weeks thereafter.
Because of a significantly higher incidence of serious adverse events with quetiapine (38.5%) than with the other three AAPs (19.0%), the quetiapine arm of the trial was discontinued midway through the trial, the researchers report.
"Worrisome" Findings
There was a high discontinuation rate following a relatively short duration of AAP use (median of 26 weeks). One half of the patients continued taking the assigned drug for fewer than 6 months, they report.
Moreover, there was no significant improvement in psychopathology on Brief Psychiatric Rating Scale over a 6-month period, and there was a high incidence of metabolic syndrome (36.5% in 1 year) and of serious (23.7%) and nonserious (50.8%) adverse events with AAPs.
"These results are worrisome," the researchers say, "since we had given a choice to the patients and their psychiatrists to exclude one or two of the four AAPs for possible safety or effectiveness concerns. The clinicians could choose the daily dosage and change it as needed at any time. The daily dosages of the AAPs prescribed were relatively low. Thus, we had sought to give all the study AAPs the best chance of proving safe and effective as is done in good clinical practice."
The authors also note that the reported metabolic advantages of aripiprazole compared with olanzapine were not borne out in this study. Irrespective of diagnosis and drug, the overall risk-benefit ratio for the AAPs studied in this population of patients older than 40 years was "not favorable," they report.
The authors acknowledge that the use of AAPs in older patients with psychosis presents a "major clinical dilemma."
Although the researchers say their findings do not suggest that these AAPs should be banned in older patients with psychotic disorders, they do indicate that considerable caution is warranted in off-label, long-term use of the drugs in older persons.
"When these medications are used off-label, they should be given in low dosages and for short durations, and their side effects monitored closely," Dr. Jeste said. "Clearly, there is also a critical need to develop and test new interventions that are safe and effective in older people with psychotic disorders."
No Safer Than Older Agents
Reached for comment, Nicholas Rosenlicht, MD, Department of Psychiatry, University of California, San Francisco, said the side effect–to–effectiveness profile for these newer agents is "just not that good. It seems no better and perhaps worse than the older agents, and I think it's taking a while for this information to filter down to clinicians, especially to nonpsychiatric providers who are doing a lot of prescribing of antipsychotics."
"It's nice that this study is being published," Dr. Rosenlicht added. "These agents do have a place, but we need to be careful; there was this kind of wholesale acceptance and assumption that they worked well and had fewer side effects than the older agents, but really they just tend to have different side effects, except for risperidone, which behaves a lot like an older agent."
The study was funded by the National Institute of Mental Health, in part by the National Institutes of Health, and by the Department of Veteran Affairs. AstraZeneca, Bristol-Myers Squibb, Eli Lilly, and Janssen Scientific Affairs LLC donated quetiapine, aripiprazole, olanzapine, and risperidone, respectively. Dr. Jeste and Dr. Rosenlicht have disclosed no relevant financial relationships. A complete list of author disclosures is presented in the article.
J Clin Psychiatry. Published online November 27, 2012. Abstract
Medscape Medical News © 2012 WebMD, LLC

Send comments and news tips to news@medscape.net.
Cite this: Four Atypicals Lack Safety, Efficacy in the Elderly - Medscape - Nov 27, 2012.