ANAHEIM, California — The purer the genetic African ancestry of a black man, the more likely he is to suffer from severe asthma, according to a study presented here at the American College of Allergy, Asthma & Immunology (ACAAI) 2012 Annual Scientific Meeting.
"Our findings suggest that genes play a role in increasing the risk of asthma attacks, and that some of these genetic risk factors partition with African ancestry," lead author Jennifer Ann Rumpel, MD, from the Henry Ford Health System in Detroit, Michigan, told Medscape Medical News.
"However, it appears that these genetic risks are predicated on additional environmental conditions," she added.

It is known that black people are more likely to experience severe asthma attacks, but the reasons for this heightened risk are not known. Dr. Rumpel and her colleagues assessed whether there might be a genetic component.
They studied participants enrolled in the Study of Asthma Phenotypes and Pharmacogenomic Interactions by Race-Ethnicity (SAPPHIRE). Participants 12 to 56 years of age who had a previous diagnosis of asthma made by a physician received care from a single large health system.
The researchers used a set of genetic markers that had a different frequency in African and in European ancestral populations. These markers were used to estimate the proportion of African ancestry in each individual.
They then looked to see whether there was an association between genetic ancestry and the likelihood of having a severe asthma attack.
Severe exacerbations, identified from healthcare claims, consisted of asthma-related visits to the emergency department, asthma hospitalizations, and burst or short periods of high-dose oral steroid use.
Among the 392 black patients with asthma, the average proportion of African ancestry was 76.1%.
The risk for a severe asthma attack was significantly higher with increasing African ancestry among men but not among women. For every 20% increase in African ancestry, the relative risk rose by 4.30 (P = .029), even after adjustment for multiple confounders, Dr. Rumpel reported.
"The fact that the risk associated with genetic ancestry was higher in males than females was surprising, and suggests that there are other environmental factors that interact with these genes to determine whether an individual has severe asthma attacks," she said.
"Doctors can tell their patients that we are learning more about the genetic and environmental contributors of severe asthma attacks, but all patients, regardless of race, gender, and ancestry, should seek care for their asthma to prevent its serious complications," Dr. Rumpel said.
"We anticipate that our study will lead to more detailed genetic mapping of the risk factors associated with asthma exacerbations.... These studies will need to consider and account for other interactions, such as gender and other environmental exposures," she noted.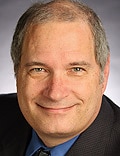 The first question that comes to mind is how much African ancestry the average balck person in the United States has, said Jay M. Portnoy, MD, professor of pediatrics at University of Missouri, and Mercy Children's Hospital, both in Kansas City.
"There has been a lot of cross mixtures. In this study, it turns out that 76% of their DNA was truly African, so there is quite a bit of 'interbreeding,' if you will, at play." People who have just a little bit of African ancestry are not at much higher risk, but people who have nearly full African ancestry, who perhaps just came from Africa, are much more likely to have a severe exacerbation of asthma," said Dr. Portnoy, who was chair of this year's ACAAI abstract committee.
"This is very convincing evidence that in fact genetics do play a role in the severity of asthma attacks. I've always wondered whether worse asthma in African Americans was because of socioeconomic status, access to care, cultural differences, things like that, but it turns out that the genetics actually does have some contribution," he said.
Dr. Rumpel has disclosed no relevant financial relationships. Dr. Portnoy reports a financial relationship with ThermoFisher Scientific.
American College of Allergy, Asthma & Immunology (ACAAI) 2012 Annual Scientific Meeting: Abstract P39. Presented November 11, 2012.
Medscape Medical News © 2012 WebMD, LLC

Send comments and news tips to news@medscape.net.
Cite this: African Ancestry Linked to More Severe Asthma - Medscape - Nov 15, 2012.