In the United States, more black women than white women die from breast cancer, even though the incidence of breast cancer is slightly lower in black women.
This racial disparity was highlighted in a press briefing held today by the Centers for Disease Control and Prevention (CDC), and is detailed in a report published online November 14 in the Morbidity and Mortality Weekly Report.
Since 1990, breast cancer death rates have been declining in the United States, largely because of advances in early detection and treatment. However, not all women have benefited equally, the report notes.
"Deaths from breast cancer are higher among black women than any other ethnic or racial group," Ileana Arias, PhD, deputy director at the CDC, noted at the briefing.
The report is based on an analysis of data from the United States Cancer Statistics from 2005 to 2009.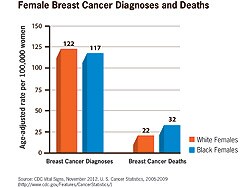 It shows that the incidence of breast cancer is 116.9 per 100,000 black women and 122.1 per 100,000 white women.
However, a higher proportion of black than white women are diagnosed at a regional or distant stage, when the cancer has moved beyond the breast (45% vs 35%).
In addition, the rate of breast cancer mortality is 41% higher in black women than white women. For every 100 breast cancers diagnosed, there are 27 deaths among black women and 18 among white women.
A number of factors contribute to this, including unacceptable gaps in terms of timely screening and treatment, and difficulties in negotiating "our very complex health system," said Dr. Arias.
Lack of Access
"Lack of access to healthcare has been a major reason women do not get cancer screening," she said. This is set to improve; in 2014, the Affordable Care Act will dramatically increase access for 30 million people, which is "critically significant," she said.
Already, because of the Affordable Care Act, many private health plans and Medicare now cover mammograms and certain other preventive services with no copays or out-of-pocket expenses, according to a CDC press release. It is estimated that approximately 5.1 million black women will receive guaranteed women's preventive health services without cost-sharing under the Affordable Care Act, it notes.
Also important are the improvements being made in electronic health records, which will help to coordinate the care of women who have an abnormal finding on a mammogram, Dr. Arias said.
The "timeliness of follow-up care after an abnormal screening test is a critical step," the report notes, because extensive delays lead to larger cancers, more positive lymph nodes, and subsequently poorer outcomes.
The report cites studies showing a longer interval between an abnormal mammogram and a diagnosis in black women than in white women, even when they had similar medical insurance status. One study reported that 20% of black women had a diagnostic interval of more than 60 days, compared with 12% of white women (Am J Public Health. 2010;100:1769-1776).
It also cites evidence of a poorer quality of care for black women, including a study that found that fewer black women than white women started treatment within 30 days of diagnosis (69% vs 82%) (Breast Cancer Res Treat 2008;109:545-557).
However, the report notes that there are differences in the biology of breast cancer between the races; black women are more likely to have tumor subtypes with a poorer prognosis, such as the triple-negative subtype. Despite these differences, modeling studies have shown that the differences in death rates could be reduced by 19% if the same treatment was provided to both populations
"We can and we clearly must address these disparities," Dr. Arias said at the briefing.
"The full benefit of breast cancer screening will only be seen when every woman receives timely follow-up and high-quality treatment," added Marcus Plescia, MD, MPH, director of the division of cancer prevention and control at the CDC.
MMWR Morb Mortal Wkly Rep. Published online November 14, 2012. Abstract
Medscape Medical News © 2012 WebMD, LLC

Send comments and news tips to news@medscape.net.
Cite this: Breast Cancer Deaths Higher in Black Women - Medscape - Nov 14, 2012.