WASHINGTON — The investigational agent odanacatib appears to be an effective treatment for postmenopausal osteoporosis that persists after 3 years of alendronate therapy, according to a phase 2 trial presented here at ACR 2012.
Treatment with odanacatib significantly improved bone mineral density (BMD) at the femoral neck, hip, trochanter, and lumbar spine, compared with placebo, in postmenopausal women previously treated with alendronate. In addition, the novel agent was generally safe and tolerable.
Earlier this year, a phase 3 trial assessing fracture risk with odanacatib was stopped after an independent data and safety monitoring committee determined that odanacatib had a favorable risk/benefit profile.
"Odanacatib is a cathepsin K inhibitor that inhibits bone resorption while maintaining bone formation, whereas bisphosphonates reduce bone resorption and bone formation," said lead author Roland Chapurlat, MD, from Hôpital Edouard Herriot in Lyon, France.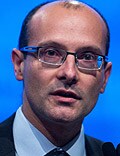 "In this study of women with low bone mass after alendronate treatment, we saw no issues of excess bone formation or abnormal stress fractures," he explained.
Dr. Chapurlat noted that most studies of women with osteoporosis do not enroll previously treated women, but this study sought to determine if the drug had a benefit in previously treated patients.
The randomized double-blind placebo-controlled 24-month trial was conducted at 42 sites in 12 countries. Investigators enrolled 246 women 60 years or older with osteoporosis, and randomly assigned them to receive odanacatib 50 mg once weekly or placebo. All patients received vitamin D and calcium supplementation.
The mean age of the participants was 71.3 years, most were white, 73.7% had a history of any fracture, and 68.3% had a fracture history after menopause. The mean duration of previous alendronate therapy was 5.5 years; 55% had taken alendronate for 3 to 5 years.
"Long-term alendronate [treatment] results in persistent suppression of bone turnover, and there is a residual effect even after stopping," Dr. Chapurlat said.
For the primary end point of femoral neck BMD at 24 months, there was a 2.67% difference favoring odanacatib (P < .001), and for total hip BMD, there was a 2.7% difference favoring odanacatib (P < .001). For both these end points, the effect of odanacatib was seen after 6 months because of the residual effect of alendronate, Dr. Chapurlat reported.
A 3.18% difference in BMD at the trochanter and a 2.57% difference in BMD at the lumbar spine also favored odanacatib at 24 months (P < .001 for both, compared with placebo).
At 24 months, odanacatib significantly reduced markers of bone resorption (P < .001) and significantly increased markers of bone formation (P = .011).
There were no significant differences in adverse events in the 2 treatment groups, although the rate of discontinuations related to adverse events was higher in the odanacatib group than in the placebo group (9% vs 3%).
The rate of fracture was lower in the odanacatib group than in the placebo group (4.9% vs 13.2%). "The study was not designed to look at fracture efficacy," Dr. Chapurlat stated.
An ongoing phase 3 trial of 16,000 women will show fracture rate; those results are expected next year, he said.
In contrast to bisphosphonates, odanacatib and denosumab are not deposited in the bone, so they should not have a long-term effect on bone turnover after drug discontinuation.
"They block osteoclasts and don't reside in the bone," said Stanley Cohen, MD, medical director of the rheumatology training program, clinical professor of internal medicine at the University of Texas Southwestern Medical School in Dallas, and past president of the ACR.
"What happens to patients who were taking alendronate and still have low bone mass? Will they respond with improvement in bone density? The answer is yes," Dr. Cohen stated.
Dr. Cohen doubts that odanacatib will replace bisphosphonates "because they cost pennies and their benefits are outstanding. But we need to define better which patients should be treated and for how long, in light of the rare cases of atypical fracture reported with long-term treatment," he said.
If long-term follow-up shows that odanacatib does reduce bone resorption and allows new bone formation to continue, this drug is likely to play a role in the treatment of osteoporosis, Dr. Cohen said.
Dr. Chapurlat reports receiving funding from Merck Pharmaceuticals. Dr. Cohen has disclosed no relevant financial relationships.
ACR 2012: Abstract 727. Presented November 11, 2012.
Medscape Medical News © 2012 WebMD, LLC

Send comments and news tips to news@medscape.net.
Cite this: Novel Drug Builds Bone in Postmenopausal Osteoporotic Women - Medscape - Nov 12, 2012.