The Medscape Election Surveys: A Summary
Over a period of 6 months, ending on October 30, Medscape conducted 5 surveys of its members to determine how they might vote in this year's election. Each survey followed some political event that involved healthcare issues, and except for the last survey, each included a few questions related to the event or the healthcare topics covered.
When looking at how the responses trended (see Chart below), the surveys suggest that, like the general electorate, healthcare providers' opinions on President Barack Obama and former Governor Mitt Romney have shifted over time -- sometimes dramatically. The surveys provide insight into what healthcare professionals think about the platforms of the presidential candidates and highlight the role of healthcare in the upcoming election.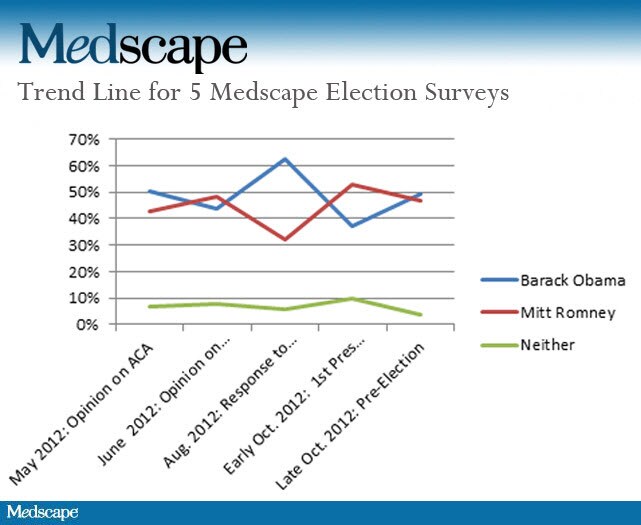 The cause of the wide swings in responses suggested by the chart over the past few months is unclear. Certainly, the opinions of healthcare professionals on the candidates are often based heavily on their approach to healthcare reform. And these opinions often differ significantly, even among physicians and nurses. Perhaps, as in the general population, the decisions of clinicians to shift their support to Romney after the first presidential debate could reflect Romney's stronger debate presentation, but this does not explain the uneven course over the entire series.
Editor's Note: It should be strongly noted that these surveys were all self-selected and directed only toward Medscape members, and so should not be considered as scientific. They were intended simply be an informal look at the opinions of our health professional members as we all navigated this challenging election season.
Medscape Internal Medicine © 2012  WebMD, LLC

Cite this: The Last Medscape 2012 Election Survey - Medscape - Nov 01, 2012.