Introduction
Many ophthalmologists are looking for ways to grow their business and increase their revenue. Some have flirted with the thought of opening an ambulatory surgery center (ASC), but balked at the amount of work and commitment involved. Would it be worth it for you?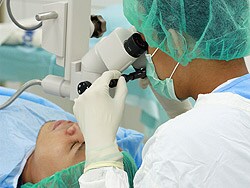 Brent W. Lambert, MD, built his first ambulatory surgery center ASC 28 years ago. "And then 7 years later," he says, "I built another one because I liked the first one so much."
Today, he is 1 of 3 founding principals, all ophthalmologists, of Ambulatory Surgical Centers of America (ASCOA). This Hanover, Massachusetts-based company helps physicians launch; operate; and when necessary, revive their own ASCs. "Ophthalmologists really led the way in the development of ASCs in the United States," he says. "We were the first specialty to embrace it, because we saw the advantages."
You've Got the Power
First and foremost, an ASC allows ophthalmologists to completely control their surgical environment, Lambert says. Practitioners can purchase the technology they want to use and surround themselves with employees they've selected; they need not rely on a hospital's tools and personnel. "For me, and for many surgeons, this is very important," he comments.
"One has control over the assistants, the nursing, and the scheduling, so it makes life much easier, and it has vastly improved patient care," says Louis D. "Skip" Nichamin, MD, Medical Director of Laurel Eye Clinic, Brookville, Pennsylvania. Laurel Eye Clinic encompasses 10 practice sites and 2 ASCs in rural areas of western and central Pennsylvania.
An ASC serves as a profit center -- a "huge plus" after decades of falling Medicare fees for surgery, Lambert notes. Aside from being paid for services provided, physicians have an opportunity to collect the facility fee. "We were able to pay for our children's education based on the money that came from owning an ASC," he reports.
"Properly structured, ASCs are very profitable," agrees Stephen C. Sheppard, CPA, managing principal of Medical Consulting Group (MCG), LLC, Springfield, Missouri.
What's more, the ASC represents a revenue stream that is independent of the physician's labor. Ophthalmologists should not have to put in more hours or acquire more patients; they simply relocate where they perform surgery. "Fortunately," Nichamin notes, "the cuts on the facility side have been modest compared with what we've endured on the practice side."
Medscape Business of Medicine © 2012 WebMD, LLC

Cite this: Ambulatory Surgical Centers: Good for You and Your Patients - Medscape - Nov 06, 2012.