October 10, 2012 (London, United Kingdom) — New data--including results from registries in Latin America, Asia, and parts of Europe--suggest that rates of pacemaker implantation following transcatheter aortic-valve implantation (TAVI) with the CoreValve (Medtronic) device may be falling, although large intercountry differences still exist.
The "pacemaker issue" has been one of the major unresolved questions for the CoreValve; because it self-expands, this can lead to conduction disturbances following implantation, necessitating use of a pacemaker in around 25% of patients who receive it (although one study has shown that pacemaker implantation doesn't affect the clinical outcome of TAVI).
Doctors at the PCR London Valves 2012meeting last week said that economic circumstances and reimbursement policies might have some impact on pacemaker use, in that some countries may not be able to afford to fit them willy-nilly, and others may do it just to be "on the safe side."
But they believe there are clinical strategies that can be employed to reduce pacemaker implantation with the CoreValve. These include avoiding predilation wherever possible, placing the valve a few milimeters higher, and waiting until about 10 days after the TAVI procedure before deciding whether a pacemaker is warranted or not, as is the practice following surgical aortic-valve replacement (SAVR).
Pacemaker Use Low in Latin America, Asia, and Sweden

In a session on single and multicenter TAVI registries, Dr Andreas Rück (Karolinska Hospital, Stockholm, Sweden) reported that the rate of pacemaker use with the CoreValve device had dropped to around 11% by 2011 in the Swedish TAVI registry.
TAVI represents only around 11% of aortic-valve-replacement procedures performed in Sweden and is really reserved "mostly for patients who are inoperable," he noted. The registry covers all 566 TAVI procedures performed (with both CoreValve and Sapien devices [Edwards Lifesciences]) in the country from 2008 to 2011.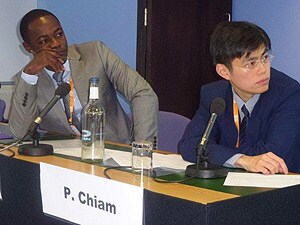 Asked by the session chair, Dr Didier Tchétché (Hôpital Bichat, Paris, France), what he believed was behind the fall in pacemaker deployment seen with the CoreValve over the three years, Rück said: "With better experience, we place the valve a little higher and we avoid predilation.
Meanwhile, Dr Raquel Del Valle-Fernández (Hospital Universitario Central de Asturias, Oviedo, Spain) presented results on 1170 consecutive patients from the Ibero-American registry--which covers 43 institutions employing the CoreValve in Spain, Portugal, and Latin America--from December 2007 to March 2012.
The rate of pacemaker implantation in Europe was double that in Latin America.
Permanent pacemaker implantation ran at 25% overall in the registry, but "the rate of pacemaker implantation in Europe was double that in Latin America," where around one-third of the patients were located, she observed.
The other session chair, Dr Paul Chiam (National Heart Centre, Singapore), asked Del Valle-Fernández if she had any ideas as to why pacemaker use was lower in Latin America. "We don't really know why; it may be economic issues," she suggested.
Play the Waiting Game: Postpone Pacemaker Decision Until 10 Days After
Chiam told heartwire that in an Asian registry of CoreValve implantations, pacemaker use is running at 16% [unpublished data]. "I really want to know, is there something in the West whereby you put in a pacemaker prophylactically, vs in Asia, where we are holding on and then often the patient never needs one?" he wondered.
Others agreed that postponing the decision about pacemaker implantation could turn out to be a good strategy. In a "potpourri" session, researchers from the Rigshospitalet University Hospital, in Copenhagen, Denmark described a reevaluation of the indications for permanent pacemaker implantation (PPMI) following TAVI after the periprocedural period (30 days or less following TAVI) in the first 258 consecutive patients to receive TAVI at their institution.
PPMI may be reduced by postponing the decision to 10 days or more after TAVI, as is the practice after SAVR.
Excluded from the analysis were 9% of patients because of a PPMI prior to the TAVI. Overall PPMI was 26.9%, but only 19.7% of patients received a pacemaker on an "absolute" indication--third-degree AV block and second-degree AV block type II and advanced--within 30 days of the procedure. Furthermore, after the periprocedural period, only 9.8% of patients without a preexisting device had an absolute indication for PPMI. "This suggests that PPMI may be reduced by postponing the decision to 10 days or more after TAVI, as is the practice after SAVR," they said.
Meanwhile, Dr Saib Khogali (New Cross Hospital, Wolverhampton, UK) and colleagues evaluated the PPMI requirement in 107 of their TAVI patients, all of whom receive CoreValve devices. "Larger valve size, postdilation, and low implantations have been shown to independently increase the risk of required PPMI," Khogali observed.
They found a lower need for PPMI than previously described, at 11.7%. "We would advocate a high deployment strategy of 3 to 5 mm below the annulus to reduce the packing rate," Khogali said. He added that they also saw an apparent reduction in the incidence and severity of paravalvular leak after high implantation of the device.
TAVI Registries Give Valuable Information on Complications and Outcomes
Commenting on other findings from the Swedish TAVI registry, which covered 314 CoreValve implantations and 252 Sapien valve procedures, Rück said transfemoral access was used in 385 cases, transapical access in 159, and subclavian in 22 patients. Mortality at one year was 14%, and in-hospital stroke was 2.2%. And among the 209 cases performed most recently--in 2011--the stroke rate was 1.5%, vascular complications were 11%, and major bleeding 8%. On postprocedure echo, aortic regurgitation grade 0–1 was seen in 86% of cases, grade 2 in 10%, and grade 3 in 3%.
Rück concluded that "a nationwide TAVI registry is feasible and is able to give valuable data. For Sweden, we found rather low short-term and long-term mortality and a low stroke rate."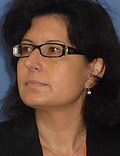 And Del Valle-Fernández described how, in the Ibero-American TAVI registry running from 2007 to 2012, "the tendency has been to move to lower-risk patients." There were 345 patients in the registry who had a EuroSCORE of >20%, "but most of these were at the beginning," she observed; 485 had a EuroSCORE of 10% to 20%, and 340 had a EuroSCORE of <10%. The last group had comorbidities that made them ineligible for surgical aortic-valve replacement, such as cirrhosis or prior CABG, she noted.
Procedural success was reported in 96% of patients and postprocedural aortic regurgitation was 2 or less in 95%. In-hospital mortality was 7.3%. There were 131 patients lost to follow-up. Of the remaining patients, 88% were in NYHA class 1 or 2 at one month after TAVI, and these figures were 91% and 94% at 12 and 24 months. Mortality and cardiovascular mortality at two years was 19% and 10%, respectively, for those with a EuroSCORE of <10%; 46% and 17% for those with EuroSCOREs of 10% to 20%; and 53% and 29% for those with a score of >20%.
"TAVI with the CoreValve system in the real world is feasible, safe, and associated with an improvement in functional status and with an acceptable low mortality rate at follow-up and after hospital discharge. Death after discharge is related to baseline comorbidities and in-hospital complications," she concluded.
Heartwire from Medscape © 2012 Medscape, LLC

Cite this: Pacemaker Implants With Corevalve Edge Lower - Medscape - Oct 11, 2012.