October 10, 2012 (Orlando, Florida) — Low-dose mesylate salt of paroxetine (LDMP) is safe and effective in reducing the frequency and severity of hot flashes associated with menopause, according to data from a phase 3 placebo-controlled trial presented at the North American Menopause Society (NAMS) 23rd Annual Meeting.
The uniquely formulated low-dose paroxetine was specifically developed for the treatment of menopausal vasomotor symptoms, James A. Simon, MD, clinical professor of obstetrics and gynecology at the George Washington University School of Medicine in Washington, DC, and past president of NAMS, explained.

"Previously there have been no nonhormonal treatments for hot flashes and night sweats that have been FDA [US Food and Drug Administration] approved," Dr. Simon told Medscape Medical News. "Those patients who are not candidates for estrogen and those women who prefer not to take estrogen have, therefore, been treated off label with a variety of compounds that have not been tested or proven to be safe and effective, either at the doses that were available or at any doses."
Just how low-dose paroxetine would lessen vasomotor symptoms of menopause is not known, Dr. Simon added.
"We know these symptoms occur when testosterone goes down in men and when estrogen goes down in women. [We also know] that if you replace either of those hormones in the respective gender, you can reduce hot flashes. But exactly what is going on in the brain, where the onset is triggered, is still a bit of a mystery," he said. "This is why animal models for development of drugs that can treat vasomotor symptoms are imperfect at best."
Study Design and Results
Dr. Simon and colleagues randomly assigned 568 women (mean age, 54 years) who had an average of more than 7 to 8 moderate to severe hot flashes daily or 50 to 60 moderate to severe hot flashes per week for at least 30 days before study entry to receive LDMP 7.5 mg or placebo once a day for 24 weeks.
Initially, all study participants entered a 12-day, single-blind run-in period during which they received placebo once daily at bedtime; they recorded the number and severity of their hot flashes in daily diaries.
Results showed that at week 4, the women taking LDMP had a mean weekly reduction from baseline of 28.9 fewer hot flashes compared with a mean weekly reduction of 19.0 fewer hot flashes for women treated with placebo (P < .0001).
Mean weekly reductions in vasomotor symptom frequency was also greater at week 12 (-37.2 for LDMP and -27.6 for placebo, P = .0001).
Daily reductions in vasomotor symptoms were also increased with LDMP at week 4, with 60% of women taking the new compound compared with 48% of those on placebo reporting relief (P = .0072), and also at week 12 (61% of LDMP vs 45% of placebo-treated women; P = .0001).
The benefits with LDMP persisted at 24 weeks, with 47.5% of participants treated with LDMP compared with 36.3% of those treated with placebo reporting relief from their hot flashes (P = .0066).
Adverse events that occurred more commonly with LDMP included nasopharyngitis (5.1% vs 4.9% with placebo), headache (4.3% vs 3.7%), and dizziness (2.0% vs 0.8%).
"Women can be treated with paroxetine off label, but at a much higher dose," Dr. Simon said. "The lowest dose that is available of this particular drug is 25% higher than the dose tested here, which is 10 mg, and it is not clear that chopping up those tablets would give women a reliable replacement."
Dr. Simon added that the idea of using antidepressants to treat hot flashes is not unique. "But," he said, "finding the right dose of the right drug, with an acceptable side effect profile, has not been easy. There are other companies trying to crack this barrier, and it will be very important for women to have a nonhormonal alternative."
Two Nonhormonal Options on the Horizon
Commenting on this study for Medscape Medical News, Vanessa M. Barnabei, MD, chair of obstetrics and gynecology at the University of Buffalo, in New York, who was not part of the study, said: "There have been many studies looking at the effects of SSRIs [selective serotonin reuptake inhibitors] and SNRIs [serotonin norepinephrine reuptake inhibitors] on hot flash treatment, and many have been shown to be beneficial, but none of them have sought FDA approval specifically for that indication. Most of us, in fact, especially since hormones fell out of favor several years ago, have used those medications off label for the treatment of vasomotor symptoms."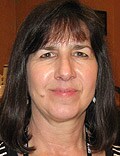 Dr. Barnabei said she felt that the antidepressants were effective, but in lower doses than are used to treat depression.
"They work by raising serotonin levels in the brain largely, and probably other ways, but they do have to adjust the thermoregulatory center in the brain. How they do this is currently not known."
JoAnn Pinkerton, MD, professor of obstetrics and gynecology at the University of Virginia, in Charlottesville, who headed a study of another nonhormonal drug to treat hot flashes and sleep disturbances in menopausal women, commented to Medscape Medical News that the findings from this study were similar to the type of findings that were found in her study of extended-release gabapentin.

"It is my understanding that both of these are at the FDA. So hopefully, we will be able to offer women 2 choices, 1 nonhormonal, non-antidepressant, and 1 nonhormonal, low-dose antidepressant. They will work via different mechanisms, they will have different side effect profiles, and both of them will relieve hot flushes. Neither is as good as estrogen therapy, but they are a great choice for women who can't or who choose not to take hormone therapy," she said.
The study was supported by Noven Pharmaceuticals. Dr. Simon reports financial relationships with Abbott Laboratories, Agile Therapeutics, Amgen, Ascend Therapeutics, Azur Pharmaceuticals, Bayer, BioSante Pharmaceuticals, Boehringer-Ingelheim Pharmaceuticals, Depomed Inc, Endoceutics, Fabre-Kramer Pharmaceuticals, Laboratoire HRA Pharma, Meditrina Pharmaceuticals, Merck, Merrion Pharmaceuticals, NDA Partners, LLC, Novartis Pharmaceuticals Corporation, Novo NordMerck, Noven, Novogyne, Pfizer Inc, Palatin Technologies Inc, Shionogi Inc, Slate Pharmaceuticals, Sprout Pharmaceuticals Inc, Teva Women's Health, Trovis Pharmaceuticals LLC, Warner Chilcott, and Watson Pharmaceuticals Inc. Dr. Barnabei has disclosed no relevant financial relationships. Dr. Pinkerton reports financial relationships with Depomed Inc, Merck, Novogyne, Pfizer Inc, Shionogi Inc, Bionova, Bionovo, and Endoceutics. Dr. Kagan reports financial relationships with Bionovo Inc, BioSante Pharmaceuticals, Merck, Noven, Novo Nordisk, Novogyne, Pfizer, and Shionogi Inc.
North American Menopause Society (NAMS) 23rd Annual Meeting. Abstract S-2, presented October 5, 2012.
Medscape Medical News © 2012 WebMD, LLC

Send comments and news tips to news@medscape.net.
Cite this: Menopausal Hot Flashes Relieved by Low-Dose Paroxetine - Medscape - Oct 10, 2012.