October 1, 2012 (Vienna, Austria) — New results show that 2 years of trastuzumab (Herceptin) is not better than 1 year. They also hint that 6 months might be sufficient, but the data are inconclusive.
The standard of care should remain 1 year of therapy for women with HER2-positive breast cancer, which accounts for about 12% to 15% of all breast cancers, experts reported here at the 2012 European Society for Medical Oncology Congress.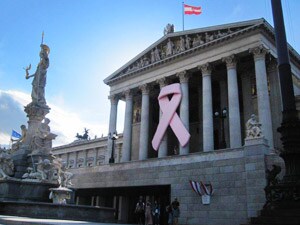 The findings on treatment duration come from an analysis of follow-up data (median, 8-years) from the long-running Herceptin Adjuvant (HERA) trial. The HERA trial established the efficacy of trastuzumab for HER2-positive breast cancer; when the overall survival results were presented in 2005, they were met with a standing ovation, recalled Christoph Zielinski, MD, chair of the clinical division of oncology at the Medical University Vienna in Austria.
"These long-awaited results constitute another milestone," he said at a press briefing he moderated, and it is appropriate that they are being presented on the first day of Breast Cancer Awareness Month. In the center of Vienna, the impressive parliament building was decked out with a large pink ribbon to mark the occasion.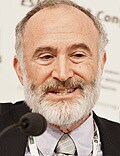 The HERA trial, conducted by the Breast International Group, involved 5102 women with early HER2-positive breast cancer. They were randomized to observation or to adjuvant trastuzumab for 1 or 2 years (after completing chemotherapy). After 2005, when the survival benefit was announced, women who were in the observation group were offered trastuzumab, and about 50% took it, explained lead author Richard Gelber, MD, from Harvard Medical School and the Dana-Farber Cancer Institute in Boston, Massachusetts.
The 8-year follow-up data show that there is no significant difference between 1 and 2 years of trastuzumab therapy in terms of disease-free survival or overall survival. However, there was more cardiac toxicity associated with 2 years of treatment, he noted. The primary cardiac end point (cardiac death or severe congestive heart failure) was comparable after 1 and 2 years of trastuzumab (0.83% vs 0.96%), but the secondary cardiac end point (an absolute decline of 10 points or less from baseline in left ventricular ejection fraction) was higher with 2 years of treatment than with 1 year (7.17% vs 4.10%).
"The key message in 2012 is that 1 year of treatment with trastuzumab remains the standard of care for HER2-positive early breast cancer patients," Dr. Gelber said.
He noted, however, that there is ongoing research into whether adding another HER2-positive targeted therapy (such as lapatinib or pertuzumab) can improve on the results.
Other data from the 8-year follow-up show that the benefit of adjuvant trastuzumab (over no trastuzumab) remains over time, and that this prolonged benefit in both disease-free and overall survival is "remarkably impressive and reassuring to patients," he said.
"It looked at one point as if the survival benefit was starting to disappear at around 4 years, but these new results at 8 years show that the benefit is sustained, robust, and long term," he explained. Compared with the observation group, women receiving trastuzumab had a 24% reduction in the risk for recurrence. This is likely to be an underestimate of the benefit because of the high crossover rate; many women originally in the observation group went on to take trastuzumab, he said.
But Is Less Just As Good?
The question of whether a shorter duration of treatment could be just as effective remains open, Dr. Gelber said. He pointed out that data from another trial (Protocol of Herceptin Adjuvant With Reduced Exposure [PHARE]) presented here are inconclusive, and that a number of ongoing studies (including PERSEPHONE, SHORHER, and SOLD) are addressing this question. This is an important question, he noted, because there could be a subset of women who will do just as well on 6 months of therapy, which would reduce their risk for adverse effects and reduce costs.
The PHARE study was conducted in more than 150 centers in France. It randomized 3380 women with early HER2-positive breast cancer who had received at least 4 cycles of (neo)adjuvant chemotherapy to either 6 months or 1 year of trastuzumab. The trial set out to test whether 6 months of treatment is noninferior to treatment for 1 year.

Xavier Pivot, MD, from the Université de Franche-Comté in Besançon, France, who presented the data, said that although the curves for disease-free survival are very similar, from a statistical point of view the results are "inconclusive for this noninferiority hypothesis" after a median of 42.5 months of follow-up.
"According to the design of this trial, which allowed for a noninferiority hazard ratio margin of 1.15, the 6-month trastuzumab arm was not demonstrated to be significantly inferior to the 12-month trastuzumab arm, since the confidence incidence contains the 1.15 noninferiority margin" (hazard ratio [HR], 1.28; 95% confidence interval, 1.04 to 1.56; P = .29), Dr. Pivot reported.
"However, despite the inconclusive result in terms of noninferiority, the HR of 1.28 suggests a trend favoring 12 months of treatment," he added.
Significantly more women had cardiac events after 12 months of trastuzumab than after 6 months (5.3% vs 1.9%).
This is not the end of the story, Dr. Pivot said. A subset analysis is underway to see if any subgroups of patients will do well on just 6 months of therapy.
Sandra Swain MD, medical director of the Washington Cancer Institute and professor of medicine at Georgetown University in Washington, DC, who was the discussant for this study, noted that in the PHARE study, trastuzumab administration was either sequential to or concurrent with chemotherapy. The results for concurrent administration (42% of patients) were better in the 6-month group; the hazard ratio was 1.17, so it was closer to noninferiority, she said. She noted that several other studies have shown a lower hazard ratio for concurrent administration than for sequential administration.
"We are not giving up on 6 months yet. We must wait for this subgroup analysis and results from other trials," added Dr. Zielinski.
There is great interest in shortening the duration of therapy, not only to minimize disruption for patients and reduce the risk of adverse effects, but also to substantially reduce the cost of therapy because trastuzumab is such an expensive drug.
In many countries, cost is the most pressing issue, and it can prevent eligible women from receiving this treatment. In such cases, 6 months of therapy with the drug would be better than none at all, Dr. Gelber said.
Moving On to No Chemo?
Dr. Swain, who is the current president of the American Society of Clinical Oncology, told meeting attendees that researchers are looking at various combinations with trastuzumab to improve efficacy.
For example, trastuzumab has been tested in combination with lapatinib (the ALTTO trial), with bevacizumab (BETH study), and with pertuzumab (APHINITY study). In addition, TDM1, the novel trastuzumab delivery product, has been tested with and without pertuzumab in HER2-positive breast cancer.
She explained that these strategies are improving the benefit seen with trastuzumab alone, which has raised the question: Is it possible for some women to skip chemotherapy and receive only HER2-positive targeted therapy?
That is being explored in 2 ongoing studies: the NeoSPHERE study with trastuzumab plus pertuzumab; and the TBCRC 006 study with trastuzumab and lapatinib.
The HERA trial was supported by Roche, the manufacturer of trastuzumab. The PHARE study was supported by the French National Cancer Institute. Dr. Gelber and Dr. Pivot has disclosed no relevant financial relationships. Several of their coauthors report relationships with pharmaceutical companies.
2012 European Society for Medical Oncology (ESMO) Congress: Abstracts LBA6_PR and LBA5_PR. Presented October 1, 2012.
Medscape Medical News © 2012 WebMD, LLC

Send comments and news tips to news@medscape.net.
Cite this: 1 Year of Trastuzumab Remains Standard in HER2+ Breast Cancer - Medscape - Oct 01, 2012.