September 24, 2012 (Beijing, China) — In the largest global study to date of a selected group of patients with nonsmall-cell lung cancer (NSCLC) testing positive for EGFR mutations (EGFR m+), the investigational targeted drug afatinib (Boehringer Ingelheim) was significantly better than standard chemotherapy.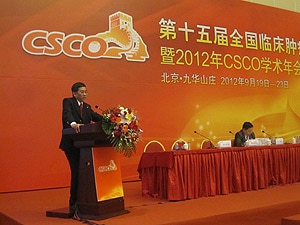 The results from a pivotal phase 3 trial, known as LUX-Lung 3, were discussed here at the Chinese Society of Clinical Oncology (CSCO) 15th Annual Meeting by lead author James Chin-Hsin Yang, MD, PhD, from the Taiwan University Medical College in Taipei.
He initially presented these results at the 2012 Annual Meeting of the American Society of Clinical Oncology. The data have just been filed by the manufacturer in the European drug approval application.
Dr. Yang's presentation here at CSCO was featured in the largest symposium of the meeting. The results are of particular interest to this audience because Asian patients with lung cancer have a high incidence of EGFR m+ tumors. In Western populations, EGFR m+ is found in about 10% to 15% of NSCLC; in Asian populations, the incidence can be up to 60%.
Afatinib is an irreversible inhibitor of the ErbB receptor family, and has been described as the first of a new generation of tyrosine kinase inhibitors (TKIs). Dr. Yang noted that it maintains activity against EGFR mutations that have become resistant to the 2 drugs currently used to treat EGFR m+ NSCLC (both of which are reversible TKIs) — erlotinib (Tarceva) and gefitinib (Iressa).
First-line Treatment
The LUX-Lung 3 study was conducted in 345 patients with stage III EGFR m+ NSCLC who had not been previously treated with chemotherapy. The majority of this cohort (71%) was Asian. Patients were randomized in a 2:1 ratio to receive afatinib 40 mg daily or standard chemotherapy with cisplatin (75 mg/m²) and pemetrexed (500 mg/m²) intravenously every 21 days for up to 6 cycles.
The primary end point — median progression-free survival — was significantly longer with afatinib than with chemotherapy (11.1 vs 6.9 months; hazard ratio [HR], 0.58; P = .0004).
This difference was even greater in the large subgroup of patients who had the 2 most common EGFR mutations (Del19 and L858R), Dr. Yang noted. In that subgroup, median progression-free survival was 13.6 months with afatinib and 6.9 months with chemotherapy (HR, 0.47; P < .0001).
Afatinib significantly improved response rates and disease control, compared with chemotherapy, Dr. Yang concluded.
Baohui Han, MD, from the Chest Hospital at Shanghai Jiao Tong University in China, who was a discussant of this study, agrees that disease control was better with afatinib than with chemotherapy in this trial.
The results are comparable to what has already been seen with other targeted agents in this patient population, he said, referring to erlotinib in EURTAC (European Randomised Trial of Tarceva vs Chemotherapy) and gefitinib in IPASS (Iressa Pan-Asia Study). With afatinib, disease control is comparable, and might be even better, and the adverse-effect profile appears to be a "little less worse," he explained.
Dr. Yang reported that the most common adverse events with afatinib were diarrhea (reported by 95% of patients), followed rash (62%) and paronychia (57%); in the chemotherapy group, the most common adverse events were nausea (66%), decreased appetite (53%), and vomiting (42%). He noted that the incidence of adverse effects in the large subgroup of Asian patients and in the remainder of the cohort was similar.
Comparing the Data
Approach for comment on the study, Tony Mok, MD, professor of clinical oncology at the Chinese University of Hong Kong, cautioned that different clinical trials are currently being compared and that such cross-trial comparisons are problematical. "But the figures speak for themselves," he added. In selected patient populations with EGFR m+ NSCLC, progression-free survival with afatinib in the LUX-Lung trial was 11.6 months, with erlotinib in EURTAC it was 9.2 months, and with gefitinib in IPASS it was 9.5 months.
Dr. Mok noted that in IPASS, which he headed, trial participants were selected on a clinical basis and EGFR testing was carried out retrospectively; however, the 9.5 months of progression-free survival with gefitinib comes from the large subgroup of patients who tested positive for an EGFR mutation. The other 2 studies were conducted in selected patient populations with the EGFR mutation.
He emphasized that the only true way to compare the drugs is a head-to-head study, and such a trial is underway. LUX-Lung 7 is comparing afatinib with gefitinib in EGFR m+ NSCLC and is already half done, he said. The results should be available in about 2 years.
More Mutations in Asian Patients
Dr. Mok elaborated on the high rates of EGFR m+ NSCLC in Asian populations. In Asian nonsmokers with adenocarcinoma (the most common form of NSCLC), the incidence of mutations is as high as 50% to 60%; in Asian ex-smokers with adenocarcinoma, the rate is around 30% to 40%; and in Asian current smokers with adenocarcinoma, the rate is around 10% to 20%. In contrast, the incidence of EGFR m+ NSCLC is around 10% to 15% in Western populations.
When all NSCLC in Western and Asian populations is combined, the overall incidence is about 20%, he noted.
The study was funded by Boehringer Ingelheim, the manufacturer of afatinib. Dr. Yang reports serving as a consultant or advisor and receiving honoraria from Boehringer Ingelheim. Dr. Mok reports serving as an advisor/consultant for AstraZeneca, AVEO, BeiGene, Boehringer Ingelheim, Bristol-Myers Squibb, Eisai, Eli Lilly, GlaxoSmithKline, Merck Serono, Pfizer, Roche and Taiho.
Chinese Society of Clinical Oncology (CSCO) 15th Annual Meeting: Abstract BIO23. Presented September 20, 2012. Translation provided by Qixuan Jiang.
Medscape Medical News © 2012 WebMD, LLC

Send comments and news tips to news@medscape.net.
Cite this: Afatinib Beats Chemotherapy in EGFR m+ NSCLC - Medscape - Sep 24, 2012.