August 27, 2012 (Munich, Germany) — Treating patients with dysglycemia at high risk for cardiovascular disease with polyunsaturated fatty acids (PUFAs) failed to halt the progression of atherosclerosis as assessed by carotid intima-media thickness (IMT), while treatment with insulin glargine in the same patient population showed a trend toward benefit with two IMT measurements of the common carotid artery but failed to show any reduction in a 12-segment maximum carotid IMT measurement--the study's primary end point.
These are the conclusions of the Glucose Reduction and Atherosclerosis Evaluation (GRACE), a substudy of the Outcome Reduction with an Initial Glargine Intervention (ORIGIN) trial. The study was presented here today at the European Society of Cardiology 2012 Congress.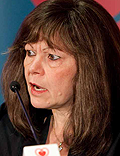 Lead investigator Dr Eva Lonn (McMaster University, Hamilton, ON) said that previous studies--most notably GISSI -Prevenzione and GISSI-Heart Failure--did show a small but significant benefit of treatment with omega-3 fatty acids. In some prevention guidelines, the use of fish-oil supplements is endorsed in patients with lipid abnormalities, such as those with elevated triglycerides and low HDL-C.
Speaking with the media, however, Lonn pointed out that a recent meta-analysis, published before ORIGIN and GRACE, showed insufficient evidence of benefit with omega-3 fatty acids in the secondary-prevention setting. For Lonn, the lack of benefit in high-risk subjects--including the GRACE patients--is likely because of the concomitant use of other therapies, such as the aggressive use of blood-pressure-lowering medications and statin therapy, which are more effective in dealing with atherosclerosis.
"There are still two ongoing trials, but I personally don't prescribe much fish oil, except in people with severe hypertriglyceridemia whom I can't control otherwise," she said. "People with diabetes already have big challenges. They need to take drugs to manage glycemia, they need to be on a statin, they have to have adequate blood-pressure control, they shouldn't smoke, and they should lose weight. They have a lot of challenges, but we're often distracted by other interventions we think are miraculous because they are natural, but they are not."
From the ORIGIN Emerges GRACE
First presented at the American Diabetes Association 2012 Scientific Sessions in Philadelphia, PA, and reported by heartwire , ORIGIN investigators showed that treatment with omega-3 fatty acids failed to reduce cardiovascular events in patients with type 2 diabetes, impaired fasting glucose, or impaired glucose tolerance who had cardiovascular disease or were at high risk for cardiovascular events [1]. In ORIGIN, patients were randomized to receive insulin glargine, with a target fasting glucose of <95 mg/dL, or standard care; and to receive n-3 fatty acids (a 1-g capsule containing 465-mg eicosapentaenoic acid and 375-mg docosahexaenoic acid)--or placebo.
[People with diabetes] have a lot of challenges, but we're often distracted by other interventions we think are miraculous because they are natural.
The GRACE substudy included 1091 patients who had at least one postrandomization carotid ultrasound. In total, 533 patients were randomized to insulin glargine and 558 randomized to standard care. In addition, 539 patients were randomized to treatment with omega-3 fatty acids and 552 randomized to placebo.
After an average period of five years from baseline to last carotid ultrasound scan, there was no significant effect of insulin glargine on the primary end point of maximum carotid IMT compared with placebo. There was, however, a modest beneficial effect of insulin glargine on measurements of the common carotid and carotid bifurcation IMT.
"Some people are hypothesizing that glucose lowering and its effects on macrovascular disease differ from statins and blood-pressure lowering," said Lonn. "The effect might be very slow, so we might see a benefit later on. From a practical point of view, people with hyperglycemic states need to be treated. At least what we know from the insulin-glargine [arm] is that it was safe in people with an early stage of diabetes and it was well-tolerated, with few people having hypoglycemia."
Didn't Affect Carotid IMT, But Insulin Glargine Safe
Dr Hertzel Gerstein (McMaster University, Hamilton, ON), lead investigator of ORIGIN, previously told heartwire that there had been some concerns that insulin glargine might accelerate cardiovascular disease, and despite the lack of benefit on hard clinical cardiovascular end points, the drug was shown to be a safe treatment option and could be used for the prevention of diabetic complications, such as eye and kidney disease. For Lonn, the GRACE substudy meets the same objectives. She said insulin glargine also meets the Food and Drug Administration requirements of showing that a diabetes drug lowers glucose levels and does not adversely the heart and vasculature.
As noted, treatment with the omega-3 fatty acids failed to have any impact on the primary and secondary carotid IMT measurements. Speaking to heartwire , Dr Alfred Bove (Temple University, Philadelphia, PA), who was not affiliated with the study, said elevated triglycerides and decreased HDL-C, in conjunction with elevated total cholesterol and LDL-C, is a lipid pattern that emerges before the onset of overt diabetes. For patients with this metabolic pattern, fish oil has no significant adverse effects, so physicians often recommend they take the supplement or might even prescribe them for patients.
"We know the long-term complications of diabetes: retinal, renal, nerve, and vascular damage," Bove told heartwire . "The question is how do you prevent that? The big diabetes studies have shown that aggressive lipid-lowering helps with retinal and renal disease, but does not help with vascular disease. There is a strange dichotomy here. You don't see improved cardiovascular risk with aggressive glucose-lowering with insulin."
For Bove, the lack of benefit with the omega-3 fatty acids on carotid IMT is not concerning, as there isn't much downside to them given their safety and effect on triglycerides and HDL-C. Regarding insulin glargine, the modest effect on carotid IMT fits with other studies that show aggressive treatment might not be the answer. Instead, keeping hemoglobin A1c levels between 6% and 7% would be a more ideal treatment goal.
"This study basically supports the mid-level therapy goal, with the idea that we're still not getting at the true vasculature stuff we're trying to get at," said Bove.
ORIGIN is funded by Sanofi. Lonn reports receiving research grants from/consulting for AstraZeneca, Canadian Institute of Health Research, GlaxoSmithKline, Heart and Stroke Foundation of Canada, Merck, Novartis, and Servier. Gerstein has received consulting and lecture fees from Sanofi; consulting and/or lecture fees from Bayer, Merck, Novo Nordisk, GlaxoSmithKline, Roche, Novartis, Janssen, Abbott, and AstraZeneca; and grant support from Lilly and Boehringer Ingelheim.
Heartwire from Medscape © 2012 Medscape, LLC

Cite this: Mixed Carotid IMT Results of Treating Diabetic Patients With Insulin Glargine and PUFAs: GRACE - Medscape - Aug 27, 2012.