August 27, 2012 (Munich, Germany) — In the primarily mechanistic Aldosterone Receptor Blockade in Diastolic Heart Failure (Aldo-DHF) trial, patients who received spironolactone for a year benefited with significantly improved diastolic function and ventricular remodeling as well as reduced levels of natriuretic peptides [1].
Not surprisingly, spironolactone reduced high systolic and diastolic blood pressures--spironolactone was once considered mainly a diuretic. Less expected was that the benefit on ventricular remodeling was independent of blood-pressure changes.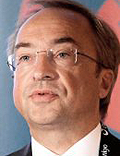 But the cardiac-structural benefits of treatment with the aldosterone antagonist, one of the oldest drugs still widely used in cardiology, didn't translate into functional gains. In fact, Dr Burkert Mathias Pieske (Medical University Graz, Austria) informed heartwire , he and his colleagues were "somewhat astonished" that spironolactone had no apparent effect on NYHA class, exercise capacity, or patient quality of life in the trial.
Pieske presented the Aldo-DHF trial, which had randomized 422 patients with heart failure and preserved ejection fraction (HF-PEF) to receive spironolactone 25 mg/day or placebo on top of other medical therapy, here at the European Society of Cardiology (ESC) 2012 Congress.
Its findings potentially suggest, for patients like those enrolled in Aldo-DHF, that reversal of adverse ventricular remodeling in diastolic heart failure may not be as closely tied to symptomatic improvement (or, possibly, clinical outcomes) in HF-PEF as has been suggested in a number of studies of systolic heart failure.
As Pieske observed, the trial entered a "relatively stable" population with heart failure of primarily NYHA class 2 with an ejection fraction >50% and, overwhelmingly, hypertension as the main etiology of heart failure. The patients were also required to have tissue-Doppler-echocardiographic evidence of diastolic dysfunction and reduced exercise capacity.
The patients therefore, Pieske said, probably represented "a population with hypertensive heart disease that had evolved into a symptomatic stage of heart failure with preserved ejection fraction and diastolic dysfunction."
In Aldo-DHF, the patients with heart failure, an LVEF >50%, echocardiographic evidence of diastolic dysfunction," and peak VO2 of <25 mL/kg/min who received either spironolactone or placebo were followed for the co–primary end points of exercise capacity and diastolic function at one year, as measured by E/e' (a tissue-Doppler-echo–derived estimate of filling pressure) and peak VO2 on bicycle ergometry.
The tissue-Doppler-echo measure improved significantly with spironolactone vs placebo at both six and 12 months (p<0.001 for both differences), while there were no significant differences between treatment groups in peak VO2 at either time point.
As for secondary end points, left ventricular mass index (LVMI) as a measure of ventricular remodeling decreased similarly in the treatment groups at six months (p=0.16) and continued to drop significantly out to 12 months in the spironolactone group but not in the control group (p=0.009). Levels of N-terminal pro-brain-type natriuretic peptide (NT-proBNP) fell in both groups by six months, somewhat more so in the spironolactone group (p=0.09). By one year, levels rose in both groups, but more so in the placebo group (p=0.03).
There were no significant differences in death or hospitalization rates.
More insight into the relationship between changes in cardiac structure and function and clinical outcomes should come from the Treatment of Preserved-Cardiac-Function Heart Failure (TOPCAT) trial, observed Pieske.
That trial, which completed enrollment earlier this year, randomized HF patients with an LVEF >45% and at least one other indicator of increased risk to spironolactone or placebo and is following them for a primary end point of cardiovascular death, aborted cardiac arrest, or HF hospitalization.
TOPCAT's results are expected "probably at the end of next year," Pieske said, and should answer the question of whether the reverse-remodeling benefits of aldosterone-antagonist therapy in HF-PEF translate into improved outcomes. "If outcomes are not improved by spironolactone in TOPCAT, then structural and functional remodeling in this disease doesn't matter as much."
Currently, Pieske said when interviewed, it can be said that spironolactone is safe to give many patients with HF-PEF for reducing blood pressure and improving cardiac structure and function. "But I can't give a general recommendation to use it, because the patients [in Aldo-DHS who took spironolactone] didn't feel better. But if I have a patient who is on dual or triple antihypertensive therapy and still has [systolic] blood pressure above 140 [mm Hg], I wouldn't hesitate to put them on spironolactone as long as renal function and serum potassium levels allow it."
Dr John GF Cleland (University of Hull, Kingston-upon-Hull, UK), the featured discussant for Pieske's presentation of Aldo-DHS at the ESC sessions, questioned the Aldo-DHS primary characterization of its patients as having preserved-ejection-fraction heart failure, at least of the type typically enrolled in HF-PEF trials. "I think Aldo-DHF is a study of early-phase diastolic dysfunction, very early diastolic heart failure."
To back up his contention, Cleland noted that many of the trial's patients at baseline had natriuretic peptide levels below a guidelines-specified threshold for heart failure and less than half the level required for entry into TOPCAT. Its patients were required to be fit enough to perform bicycle exercise studies, and they had "remarkably good renal function."
Also, he noted, mortality in the trial was almost nil. "If this is a disease that carries the same prognosis as heart failure with LV systolic dysfunction, it is strange we don't see it in the Aldo-DHF population," Cleland said.
All told, "the Aldo-DHF population looks to be at the mild end of the spectrum of diastolic dysfunction."
On the other hand, he said, the trial is noteworthy for documenting that diastolic dysfunction progresses and "that the progression can be altered by spironolactone."
The Aldo-DHF investigators report no relevant disclosures. Cleland said he has received research funding from Pfizer.
Heartwire from Medscape © 2012 Medscape, LLC

Cite this: Mixed Results for Aldosterone Blockade in Preserved-EF Heart Failure: Aldo-DHF - Medscape - Aug 27, 2012.