August 16, 2012 — Physicians in the United States may be too quick to prescribe vancomycin for patients receiving hemodialysis who develop methicillin-susceptible Staphylococcus aureus (MSSA) bloodstream infections. Cefazolin might be a better choice, according to results from a new study published online August 16 in the Journal of the American Society of Nephrology.
Kevin E. Chan, MD, from the Clinical Research Division, Fresenius Medical Care North America, and the Nephrology Division of Massachusetts General Hospital, Boston, and colleagues studied the trends in antibiotic use among MSSA-infected patients receiving hemodialysis. They found that cefazolin was associated with significantly lower rates of morbidity and mortality compared with vancomycin. Yet vancomycin was prescribed in more than 50% of cases, and less than 20% of patients received cefazolin.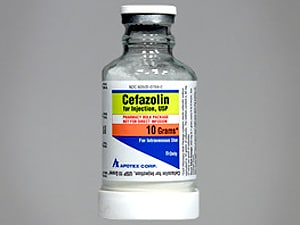 This finding led the authors to warn that "vancomycin may be overprescribed for the treatment of MSSA bloodstream infection in the US hemodialysis community."
People with end-stage renal disease (ESRD) are at particularly high risk for MSSA bacteremia, accounting for an estimated 19% to 26% of all cases, the authors write. "Even in the setting of antimicrobial treatment, the overall mortality rate for S. aureus bloodstream infections has been reported to be in excess of 20% with little improvement over the past several decades."
The infection is treatable with the right antibiotic; however, "prescribing practices and their associated outcomes have not been well studied, particularly in the outpatient ESRD population," the authors explain.
Using blood culture specimens collected from 293,094 hemodialysis patients from January 1, 2006, to December 31, 2010, the researchers identified cases of MSSA infection and classified the outcomes according to treatment. Patients in the different antibiotic groups were similar in terms of age, comorbidities, catheter rates, and vancomycin minimum inhibitory concentration.
The overall bloodstream infection rate was 15.4 per 100 outpatient years, with S aureus infections occurring at a rate of 4.0 per 100 outpatient years. The rates of MSSA and methicillin-resistant S aureus (MRSA) infections were 2.1 and 1.9 per 100 outpatient years, respectively.
"One week after blood culture collection, 74.7% of outpatients with MRSA were treated with vancomycin which was the predominant antibiotic that was prescribed," the investigators write. "Similarly, 56.1% of outpatients with MSSA bacteremia were treated with vancomycin vs. 16.7% of outpatients were treated with cefazolin (p<0.001) one week after blood specimen collection. Even after two weeks, more than twice as many patients with MSSA were prescribed vancomycin compared to cefazolin."
Vancomycin was associated with the best outcomes among patients with MRSA.
However, among patients with MSSA who were treated with cefazolin, the combined risk for infection-related death or hospitalization was 38% lower than among patients treated with vancomycin (hazard ratio [HR], 0.62; 95% confidence interval [CI], 0.46 - 0.84), and the risk for sepsis was reduced by 48% (HR, 0.52; 95% CI, 0.33 - 0.89).
Sensitivity analyses revealed that cefazolin was associated with lower rates of hospitalization and death even when patients with allergies to cefazolin or penicillin were excluded from the calculations, when HRs were readjusted on the patients' first positive blood culture during a 60-day window, and when the authors included in their calculations patients who returned from hospitalization and those who began antibiotics more than 1 week after blood cultures were drawn (the latter 2 groups had been excluded from the original analysis).
Nevertheless, the proportion of patients with MSSA bacteremia who received vancomycin increased from 49.4% in 2006 to 66.4% in 2010 (Correlationyear*vancomycin, 0.87; P < .001), whereas the use of cefazolin in this patient population declined by 8% (Correlationyear*vancomycin, −0.70; P < .001).
Clinicians may not prescribe cefazolin for these patients because they do not realize that it may be more effective than vancomycin, or because they may not be familiar with its pharmacokinetics in people with ESRD, the authors write.
The investigators did not have inpatient microbiology results, making it impossible to calculate overall rates of bacteremia and patients requiring catheter exchanges because of bacteremia. In addition, there may have been unmeasured confounding, such as variations in clinical practice.
Still, these data suggest that "there are large practice disparities in the prescription of antibiotics to treat S. aureus bloodstream infections in the ESRD population, and these may contribute to excess infection related morbidity and mortality," the researchers write. "There are currently no renal practice guidelines for the treatment of bloodstream infection in hemodialysis which would likely decrease such clinical variability in infection care."
Dr. Chan and several other study authors are associated with Fresenius Medical Care North America. None of the authors have ties to the manufacturers of vancomycin or cefazolin.
J Am Soc Nephrol. Published online August 16, 2012.
Medscape Medical News © 2012 WebMD, LLC

Send comments and news tips to news@medscape.net.
Cite this: Staph-Infected Renal Patients Getting Inferior Treatment? - Medscape - Aug 16, 2012.