Introduction
Most doctors have made efforts to trim expenses and improve their practice's profitability, but money may still be going out faster than it's coming in. If you think you can't carve another penny from your list of expenditures, think again.
Cutting costs often requires the ability to break habits and think outside the box. "You need to approach what you're doing with the understanding that you're going to have to change a little bit," says Lynn Helmer, MD, MBA, an internist and president of DRD Consulting in Haddon Heights, New Jersey. "But at the end of the day, from a business perspective, you're going to be in a better place."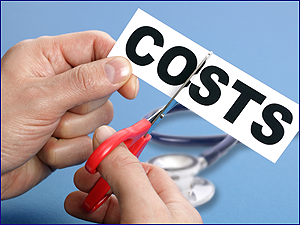 Besides cutting costs, there are innovative ways to save money on some of your current expenses.
"Start by reviewing your financial statements, and look for the significant expense-line items," says Jerrie K. Weith, director of AMD Health Care Services, a consulting firm in St. Louis, Missouri. "For example, while your rent may be a fixed amount, you may be able to renegotiate it, depending on market conditions in your area."
Read on for 12 more high- and low-tech cost-trimming suggestions.
1. Share or Rent Out Some of Your Office Space
"Find someone -- perhaps a psychologist or another professional who complements your practice -- to share your office space," says Steven Kamajian, DO, a family physician in Montrose, California. "Or rent out your space to an industrial medicine corporation as an after-hours clinic. In addition to charging them rent, you can require them to pay a percentage of your utility bill and, if you share a receptionist, a portion of the receptionist's pay."
Sivaprasad Madduri, MD, and George Aldridge, MD, 2 urologists in Poplar Bluff, Missouri, combined their practices and now share the office and employees. "We split our expenses. It's also economically more feasible to install electronic medical records as a group than as solo practitioners," says Madduri.
A New Jersey physician rents out office space after hours to a social worker/counselor who sees patients in the evening. One concern: If you rent out space, take steps to shield your medical records. It's important to be sure that Health Insurance Portability and Accountability Act (HIPAA) requirements are still being met.
Medscape Business of Medicine © 2012  WebMD, LLC

Cite this: 12 Ways to Cut Costs and Save Money in Your Practice - Medscape - Sep 17, 2012.