Introduction
Some big tax hikes are lurking, and they are likely to hit your pocketbook and finances starting on January 1, 2013. Many physicians have been focusing on healthcare reform, developments with Accountable Care Organizations, and electronic health records and haven't yet thought about the impending taxes.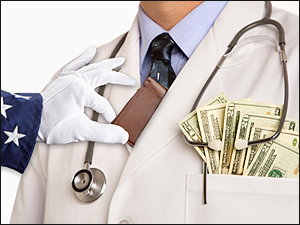 Taken together -- or even separately -- these tax increases could take a sizeable chunk out of your income. Despite these impending higher tax rates, all is not lost. However, don't wait to take steps to offset anticipated tax consequences until right before the Times Square ball drops on New Year's Eve.
With the Bush-era tax cuts from 2001 and 2003 scheduled to expire on December 31, 2012, the potential for heightened taxes in 2013 is a daunting proposition. It's also true that the odds of Democrats and Republicans reaching a compromise that forestalls the impending tax hikes -- at least before the presidential election -- is as likely as their gathering around a congressional campfire and singing "Kumbaya." Assuming that gridlock will persist for the near term, the following changes are anticipated:
Ordinary income tax rates will rise: 25% to 28%; 28% to 31%; 33% to 36%; and 35% to 39.6%.

Long-term capital gains will increase from the current 15% rate to 20%.

Qualified dividends will lose their special 15% tax rate and instead be taxed at ordinary income tax rates.

Higher Medicare tax on earned income: an additional 0.9% Medicare payroll tax will be imposed on wages and self-employment income for individuals earning more than $200,000 or, for married couples filing a joint return, $250,000.

New Medicare 3.8% surtax on unearned income (ie, investment income, such as interest, dividends, capital gains, annuities, rents, etc.) for taxpayers whose modified adjusted gross income (MAGI) exceeds certain thresholds: $250,000 for married couples filing jointly; $200,000 for single filers. The tax is equal to 3.8% of the lesser of the net investment income or the amount by which MAGI exceeds the threshold.

Estate tax exemption will be reduced from the current $5 million (with anything above that being taxed at 35%) to $1 million (with amounts over that being taxed at 55%).
"Consider tax planning decisions well in advance of the end of the current year," advises Gary N. Bagoff, CPA, a Director in the Springfield, New Jersey, office of the tax, accounting, and consulting firm Citrin Cooperman, with a large physician practice clientele. "Even though the 2013 tax landscape may not become clear until the very end of 2012, or even the beginning of 2013," Bagoff says, "the first step before taking any action in response to the potential changes looming on the horizon is to consider the tax impact of a proposed transaction and alternative choices. Rather than having to hurriedly make decisions or being too late, it's far better to be proactive and act now."
"Whether on a personal or business level, physicians -- like all taxpayers -- should consult with their tax and investment advisors prior to entering into any transactions," he adds, emphasizing, "One should never make a financial or business decision based solely on tax considerations."
Medscape Business of Medicine © 2012  WebMD, LLC

Cite this: How the Tax Hikes Set for January 1, 2013, Will Affect You - Medscape - Sep 14, 2012.