August 6, 2012 — Shorter sleep duration appears to be associated with a greater likelihood of clinical nonprotection with hepatitis B vaccine 6 months after the vaccination series, according to a new report.
Aric A. Prather, PhD, a Robert Wood Johnson Foundation Health and Society Scholar at the University of California (UC) San Francisco/UC Berkeley, and colleagues report their findings in the August 2012 issue of SLEEP.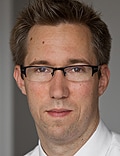 "This is the first time outside a laboratory setting we have found average sleep to predict antibody production to a vaccine," Dr. Prather told Medscape Medical News. "Several prior studies, with hepatitis A, hepatitis B, and influenza vaccine, have shown that when you shorten an individual's sleep experimentally, either by depriving them of sleep for the full night or even part of the night, vaccination potency is diminished," he added.
The mechanism of action remains unclear, he said. Laboratory studies suggest that sleep restriction may affect B and T cells, "but this continues to be an open question that several research teams are tackling."
Sleep Duration and Quality
In the current study, Dr. Prather and colleagues administered the standard 3-dose hepatitis B vaccine series to 125 people 40 to 60 years of age. Just over half were female. Participants were assessed for sleep duration and quality and for secondary antibody response with antibody titers taken before the second and third vaccine doses.
Clinical protection status, as measured by anti–hepatitis B surface antigen immunoglobulin G of 10 mIU/mL or more, was also assessed 6 months after the final immunization.
Analysis revealed that shorter sleep duration (less than 6 hours vs longer than 7 hours) was associated with a lower secondary antibody response, and this was independent of various factors, including age, sex, body mass index, and response to the initial immunization. Specifically, each additional hour of sleep was associated with a 56% increase in secondary antibody levels.
Shorter sleep duration was also linked to a decreased likelihood of being clinically protected from hepatitis B (odds ratio, 3.53; 95% confidence interval, 1.22 - 10.27; P = .02 for less than 6 hours vs longer than 7 hours). By contrast, neither sleep efficiency nor subjective sleep quality was significantly associated with antibody response.
One question that remains unanswered, Dr. Prather said, is when sleep is important in the vaccination response. "We looked at sleep on average as a predictor of response, but one intriguing possibility is that there is a critical period when sleep uniquely influences the vaccination process," he said. "If we could identify this, it may serve as a window of opportunity for intervention."
"At present, this work needs to be replicated before the clinical relevance and practical applications can be flushed out," Dr. Prather noted. However, he added that the study "provides further scientific evidence for a clear connection between sleep and health and hopefully will help promote discussion about the importance of sleep in our busy lives."
Sleep an Important Factor
Asked to comment on these findings, sleep researcher Professor Jan Born, with the Institute for Neuroendocrinology at the University of Tuebingen, in Germany, noted that the present study, showing that the clinical success of hepatitis B vaccination is significantly linked to sleep duration, is the first to translate these findings into natural living conditions.
"In combination, findings from these studies should convince clinicians as well as immunologists to take sleep as an important factor for developing adaptive immunity," he told Medscape Medical News.
According to Dr. Born, sleep supports adaptive immunity; however, the exact underlying mechanisms are obscure. Questions include the importance of timing of the vaccination; whether sleep promotes the release of immunoprotective hormones, such as growth hormone and prolactin; and which sleep stage — slow wave sleep or rapid eye movement (ie, REM) sleep — is more important for the sleep effect.
"Indeed, we are only in the beginning to understand how the sleeping brain benefits immunity," he said.
These studies were not commercially funded. The authors and the editorialist have disclosed no relevant financial relationships.
SLEEP. 2012;35:1063-1069. Abstract
Medscape Medical News © 2012 WebMD, LLC

Send comments and news tips to news@medscape.net.
Cite this: Sleep Duration Linked to Vaccine Response - Medscape - Aug 07, 2012.