July 19, 2012 (Vancouver, British Columbia) — EVP-6124, an experimental medication from EnVivo Pharmaceuticals, may improve symptoms in patients with Alzheimer's disease (AD), according to a new phase 2b clinical trial presented here at the Alzheimer's Association International Conference (AAIC) 2012.
Results from the study, which included more than 400 patients with mild to moderate AD, showed that the participants who received 2 mg/day of EVP-6124 for 6 months had significantly better improvement in test scores for cognition, memory, language, and other functions. The drug was also considered "well tolerated."
The medication is a selective, partial alpha-7 nicotinic agonist, which has a mechanism of action different from that of drugs currently approved by the US Food and Drug Administration to treat AD.
"This is a large trial and, along with some other recent studies with positive effects for this drug in healthy volunteers and in patients with schizophrenia, it's looking pretty good," lead investigator Dana Hilt, MD, senior vice president of clinical development and chief medical officer of EnVivo, told Medscape Medical News.

"In all of the studies we've done, we've had a pro-cognitive effect. So I think it's encouraging," said Dr. Hilt, noting that his team hopes to begin a phase 3, multinational study comparing the treatment with placebo in the second quarter of 2013.
"I actually found these results very exciting and promising. It's very neat to see that in a phase 2 trial, we can see such a separation in cognition and benefit," said Maria Carrillo, PhD, senior director of medical and scientific relations for the Alzheimer's Association.
However, Dr. Carrillo, who was not involved with the research, noted that cautious optimism may be called for — especially because in the past, AD treatments that yielded positive results in phase 2 trials did not go on to have positive phase 3 results.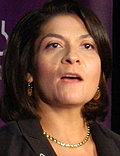 "With that said, I think it's very encouraging that we're looking for alternative strategies and therapeutic approaches. And we should continue to study this promising drug," she said.
Additional Therapies Needed
According to the investigators, acetylcholinesterase inhibitors and memantine are the currently recommended symptomatic therapies for AD.
"While these medications provide modest improvement in cognition and function, additional symptomatic therapies are desirable, even if disease modifying treatments are eventually developed," they write.
For this trial, the researchers randomly assigned 409 patients to receive 0.3 g/day (n = 104), 1 mg/day (n = 101), or 2 mg/day (n = 100) of EVP-6124 or placebo (n = 104) for 24 weeks.
The primary endpoint was improvement on the AD Assessment Scale-Cognitive subscale-13 (ADAS-Cog-13) and the Clinical Dementia Rating Scale Sum of Boxes (CDR-SB), which measure cognition, mood, language, and functionality.
Secondary measures included improvements on the ADAS-Cog-11, Controlled Word Association Test (COWAT), Category Fluency Test, Neuropsychiatric Inventory, and the AD Cooperative Study–Activities of Daily Living. Composite measures for cognition, memory, and executive function were also assessed.
The investigators also determined whether or not the patients were already taking the acetylcholinesterase inhibitors donepezil or rivastigmine to stabilize their AD.
Ready for Phase 3
Results showed that the patients who received 2 mg of active medication had significantly improved scores from baseline on the ADAS-Cog-13 (P = .019), CDR-SB (P = .025), ADAS-Cog-11 (P = .015), and COWAT ( = .014) compared with those receiving placebo.
The 2-mg treatment group also showed higher composite scores for cognition, memory, and executive function (P = .004, .009, and .043, respectively). These effects were significant for both the patients who were on other AD stabilizing therapies and those who were not.
"We believe that with further testing, EVP-164 potentially could be used as a monotherapy or added on to other approved Alzheimer's drugs," said Dr. Hilt in a release.
"The way clinicians practice medicine is by adding these drugs together. That's what patients and families and clinicians want. They want to approach the disease by multiple pathways," he added in his presentation.
There were no serious treatment-related adverse events reported by any of the patients. Mild gastrointestinal side effects, including nausea and constipation, were reported by fewer than 10% of patients in the 1-mg and 2-mg treatment groups.
"In all of the studies we've conducted evaluating EVP-6124 to date, we have seen pro-cognitive, dose-dependent effects. And we believe the novel mechanism has the potential to alleviate the undesirable side effects caused by other systemic compounds," said Dr. Hilt.
"I think this study of 409 patients has shown significant effects on a number of different endpoints. And this is a very good start towards going to phase 3 confirmatory trials."
In addition, Dr. Hilt reported that the investigators will begin a new phase 3 study late this year that will examine EVP-6124 in patients with schizophrenia.
"We're already gearing up a multicontinent, multicenter program to support getting approval for this drug in schizophrenia. And we're hoping to do the same sort of thing for Alzheimer's disease," he said.
"Over 20 years, I've worked on a lot of drugs. And this is the only one I ever worked on where every time I've taken it to clinical trial, it's had an effect. That's pretty unusual."
The study was funded by EnVivo Pharmaceuticals. Dr. Carrillo has disclosed no relevant financial relationships.
Alzheimer's Association International Conference (AAIC) 2012. Developing Topics Abstract 04-12-04. Presented July 18, 2012.
Medscape Medical News © 2012 WebMD, LLC

Send comments and news tips to news@medscape.net.
Cite this: Experimental Alzheimer's Drug 'Promising' - Medscape - Jul 19, 2012.